Tokyo street walk adventure – Shibuya, Harajuku, Shimbashi
Wanting to enjoy a nice stroll in Tokyo, do some people watching, and see what the young crowd are looking for in fashion and fun?  A walk through the Shibuya and Harajuku sections of Tokyo may be just what you are looking for.
To help you plan your walking adventure, check out the above video by Dave Trippin as he and his entourage travel via train to a few of the most recognizable sites in Tokyo.  Jumping on the train the group passes by Skytree and the Korakuen Amusement Park located in central Tokyo before arriving at their first destination, Shibuya crossing, for a nice walk around.  Then it is off to Harajuku station for a stroll down Takeshita Street to check out the young and hip fashion, before moving on to Shimbashi station with its old steam engine out front.  The group has a Yakitori meal and follows up with a walk to the Karaoke shop … the group might need a little more practice with their singing skills.
Also, in Video Options, try the Virtual Reality 360° walk down Harajuku's Takeshita Street and famous Shibuya crossing. 
Shibuya
It has been called the world's busiest intersection.  The "Scramble" crossing in front of Shibuya Station is famous around the world.   It is often featured in movies and television shows which take place in Tokyo, such as Lost in Translation, The Fast and the Furious: Tokyo Drift, and Resident Evil: Afterlife and Retribution
A little Shibuya trivia from Wikipedia.
Shibuya was historically the site of a castle in which the Shibuya family resided from the 11th century through the Edo period. Following the opening of the Yamanote Line in 1885, Shibuya began to emerge as a railway terminal for southwestern Tokyo and eventually as a major commercial and entertainment center.
Shibuya has achieved great popularity among young people since the early 1980s.
During the late 1990s, Shibuya also became known as the center of the IT industry in Japan. It was often called "Bit Valley" in English a pun on both "Bitter Valley", the literal translation of "Shibuya", as well as bit, the computer term for binary digits.
In 2015 Shibuya passed a local ordinance granting same-sex couples the right to partnership certificates; this made it the first place in Japan — or anywhere in East Asia — to recognize same-sex partnerships.
Shibuya is also the scene for Japan's largest Halloween street celebration
What Shibuya looked like in 1952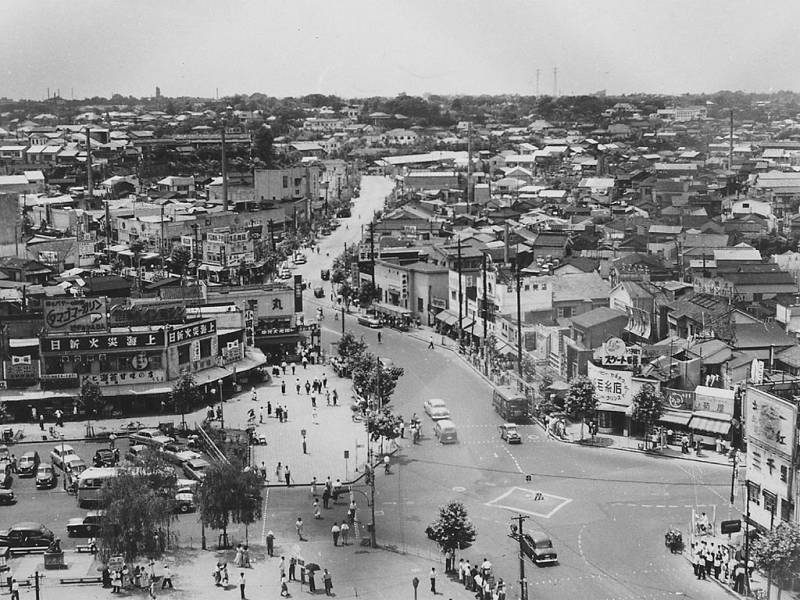 Shibuya crossing area today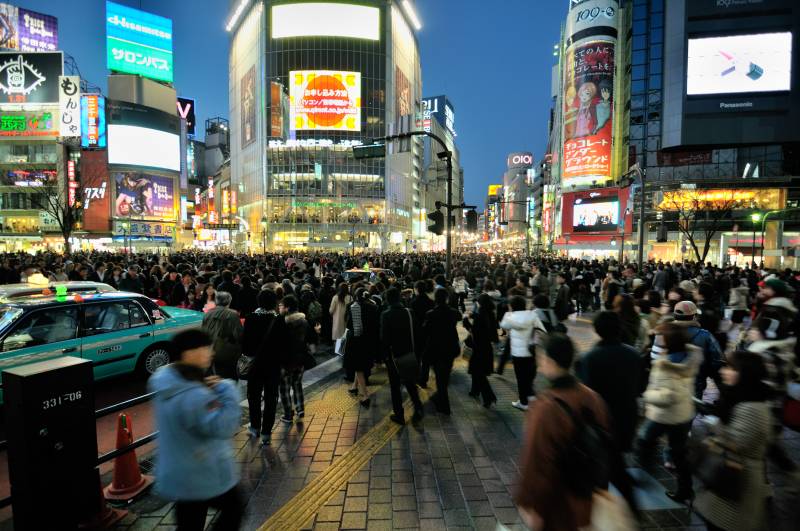 Image Credit: [cipher] (CC BY-SA 2.0)
Harajuku
One of the most popular areas in Harajuku is Takeshita Street which is a pedestrian-only street lined with fashion boutiques, cafes and restaurants. Located directly across from the exit of JR East's Harajuku Station, it is very popular with young teenagers looking for the next Japan fashion fad, shopping for small "cute" goods, and just being seen in this trendy area for the younger crowd.   The shops on this street are often a bellwether for broader fads, and some are known as "antenna shops," which manufacturers seed with prototypes for test-marketing.
Shopping and people watching on Harajuku's Takeshita Street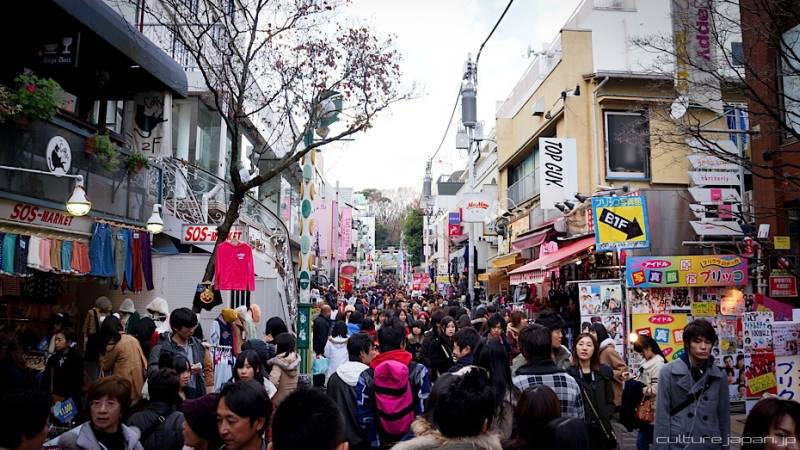 Image Credit: Danny Choo  (CC BY-SA 2.0)
Shibuya – Harajuku area map

Instructions on how to view 360° video on mobile devices.
1. Under "Video Options" (located at top of page) select the VR 360 video.
2. On the video tap the title which is located on top left of the video
3. You will be taken to the YouTube app (if installed on your phone) where the video will play.
4. To return to this page tap the "return" button on your phone.
Go back to top of this page