Tokyo Shibuya Halloween street party – Cool Japan!
In Tokyo, Japan during Halloween?  If so, a must see is the Shibuya Halloween costume street party … Japan's biggest Halloween party.  It is a wonderland of wild, unusual, scary, and funny character costumes.  The Japanese do such a great job with creating these costumes, in particular all the groups and pairs dressed alike … cool !
The celebrating of Halloween has been growing in Japan, especially with teens and young adults … and where is Japan's biggest hangout for young people … Shibuya !   And that is where you will find the biggest Halloween street party in Japan.
Check out the above videos to get a feel for the myriad of costumes being worn, the fun being had by all, and the large crowd both there to see and be seen.  The videos are from years 2013, 2104, 2015, 2016, and 2017 events … it has been growing bigger bigger every year … wonder what size the crowd will be this year ?!  Can't wait !  To get there just head to Shibuya Station and follow the huge crowd! Activity is centered around the world famous Scramble Crossing (rumored to be the busiest intersection in the world (and definitely in Japan)) and the Center Gai.
Check out the pictures of both Japanese for foreigners alike enjoying the street celebration
Clowns resting after Halloween partying fun.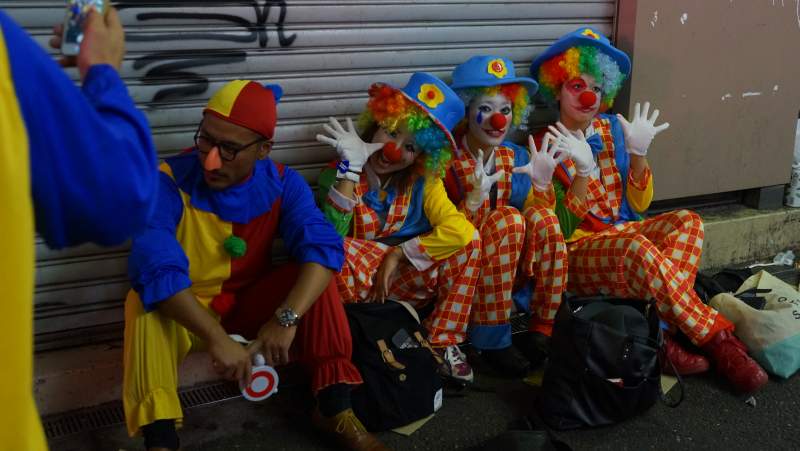 Image Credit: Ayu Oshimi (CC BY-SA 2.0) (modified for feature image)
The "cute" group of Halloween costumes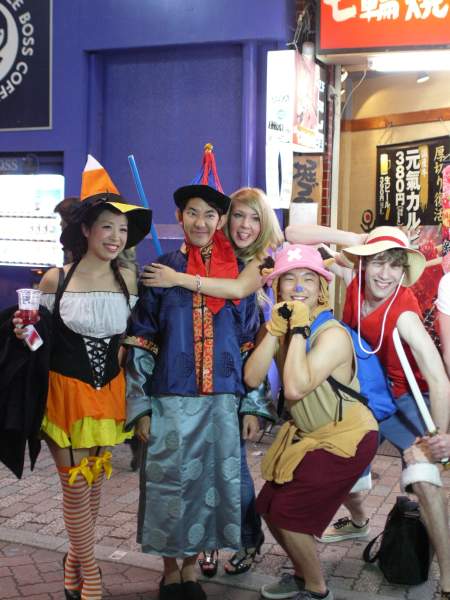 Image Credit: Gohsuke Takama  (CC BY-SA 2.0)
Halloween scary and sexy !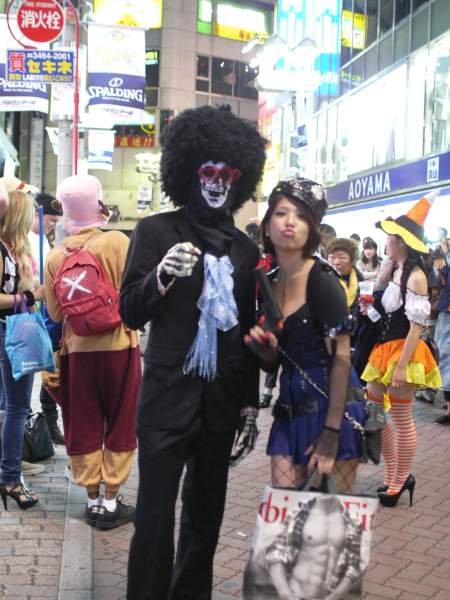 Image Credit: Gohsuke Takama  (CC BY-SA 2.0)
Ghoulish skeletons and Wonderwomen (?) posing for pics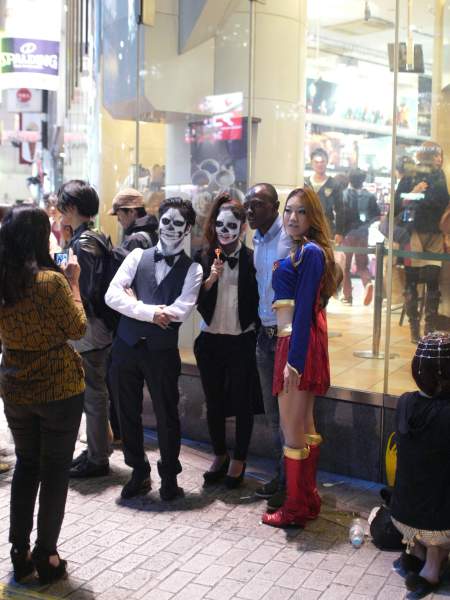 Image Credit: Gohsuke Takama  (CC BY-SA 2.0)
And if you are looking for some crazy costume fun on other days of the year, you might want to stop by the popular tourist spot Kawaii Monster Cafe located just one stop from Shibuya Station, Harajuku Station, on the JR Yamanote train line. 
Short overview of the history of Halloween from Wikipedia :
Halloween, also known as Allhalloween, All Hallows' Eve, or All Saints' Eve, is a yearly celebration observed in a number of countries on 31 October, the eve of the Western Christian feast of All Hallows' Day. It begins the three-day observance of Allhallowtide, the time in the liturgical year dedicated to remembering the dead, including saints (hallows), martyrs, and all the faithful departed believers.
According to many scholars, All Hallows' Eve is a Christianized feast influenced by Celtic harvest festivals,with possible pagan roots, particularly the Gaelic festival Samhain.Other scholars maintain that it originated independently of Samhain and has solely Christian roots.
Here is the Shibuya "scramble crossing" on a regular night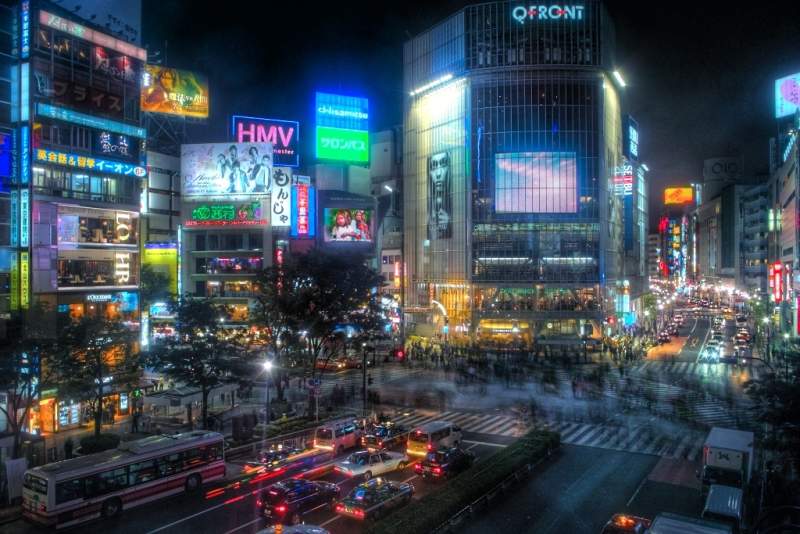 Image Credit :"Shibuya Night (HDR)" by Guwashi from Tokyo, Japan – Shibuya Night (HDR). Licensed under CC BY 2.0 via Commons.
Map of Shibuya Station location