Japan capsule hotel stay – a unique travel experience
Looking for a uniquely Japanese experience?  How about checking out a capsule hotel for a night.  A stay at a capsule hotel is an opportunity to see and experience another side of Japan, beyond the standard travel fare of visits to shrines, temples, castles, and shopping tours.
A look at Wikipedia and you find that the first capsule hotel, the Capsule Inn Osaka, opened in 1979 and is located in the Umeda district of Osaka, Japan.  Yes, it is still in business: Capsule-Inn Osaka
Japanese businessmen have been for years utilizing these small sleeping pods as an inexpensive place to crash for a night while on an out-of-town business trip or when have missed the last train after a night of entertainment.  Recently, women have also began to see merit in these facilities.
Watch the above video by WAORYU ONLYinJAPAN to get a better feel for what to expect if you plan to add a stay to your travel adventure.  These guys offer an excellent guide to a Shinjuku Tokyo capsule hotel.  Showing all the ins and outs and how to get the best experience from your stay.
When planning a visit to a capsule hotel remember that many capsule hotels are for men only. Although increasingly there are capsule hotels that have women only floors.  And some of the newest (and nicest) capsule hotels are aimed at both male and female guests.
Also, the going rate for capsule hotels is usually between US$30 to $50 a night, which often includes high-speed internet access and basic amenities, like toiletries.
And be aware that many facilities in Japan that have common baths do not allow persons with tattoos.  This primarily stems from the organized crime connotations in Japan of tattoos.  If you do have a tattoo, probably best to cover it up and not use the baths.
Hey, where do I put all of this baggage !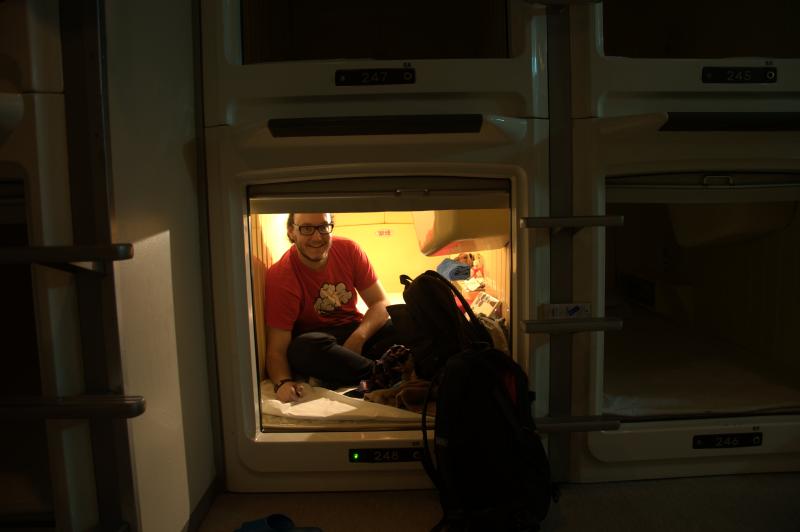 Image Credit: Francisco Antunes (CC By 2.0)
All comfy and ready for sleep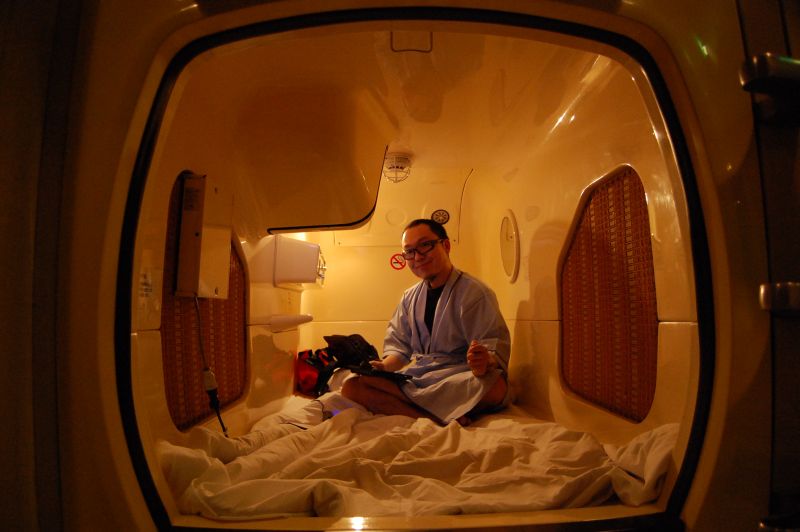 Image Credit: kimishowota (CC By 2.0) (modified for feature image)
What's on TV tonight?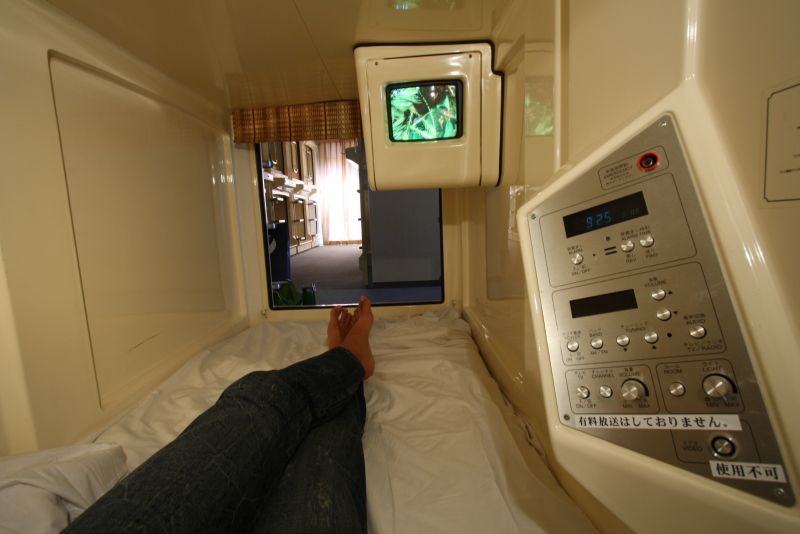 Image Credit: Kojach (CC By 2.0)
Check out the pods !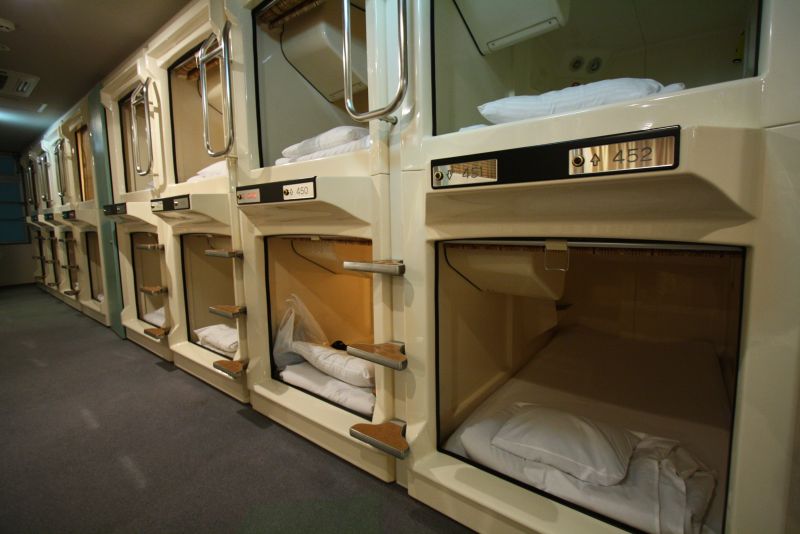 Image Credit: Kojach (CC By 2.0)
Here is a sampling of possible capsule hotels you might want to consider for your travel adventure. These have English language websites where you an find more information:
Or if you are traveling through the Shinjuku area of Tokyo and are looking for a unique Japanese experience you might want to check out the Green Plaza Shinjuku, a capsule hotel with  bath, sauna, and spa facilities, and with men only and women only sections.  From its website it says that it is the biggest capsule hotel in Japan, with 630 rooms.
For men it is the standard capsule room with a radio and TV … or an "upgraded" capsule that also has WiFi Lan and electric outlets.  Oh boy !   Maybe the best feature is the large selection of baths that you can sample during your stay in your small room.
Big baths Yunohana : Calcium carbonate, sinter from Futamta Hot Springs. Big baths with artificial thermal water.
Rock salt sauna : rock salt bath with emitting negative ion.
Loyly sauna
Outdoor bath : Japanese style outdoor bath with night view of Shinjuku
Jacuzzi bath : Warm spa bath of 30 degrees C
Water bath
Mist sauna
For women they have the Le Luck Spa and accommodations which include rooms that look a little more luxurious than the standard capsule fare, and with a 19 inch TV, electric outlets, and WiFi … and a spa and sauna which includes the Silken bath, the Cool jacuzzi bath, Rock salt sauna, Outdoor bath, and shower booths.
As stated above, as with many facilities in Japan that have common baths, tattoos are not allowed. From the hotel's website, "Anyone with tattoos, big or small, are absolutely rejected for our cultural reason."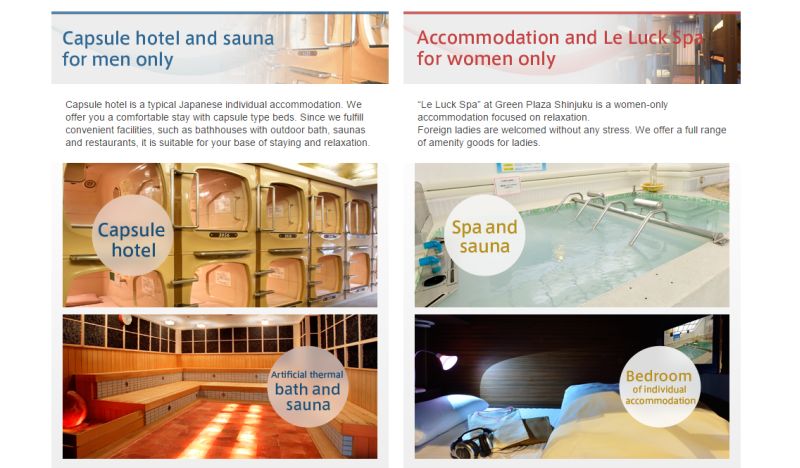 Image Credit: Green Plaza Shinjuku
Green Plaza Shinjuku map location