The Gamers Guide to Visiting Tokyo
If you are a gamer, Tokyo has a lot to offer to keep you happy and entertained.
Planning on visiting Tokyo? You may want to schedule your trip around the Tokyo Game Show, Japan's biggest gaming expo.  And while you are there, check out the other attractions.
Tokyo Game Show
The Tokyo Game Show is held at Makuhari Messe, located east of Tokyo … the 2017 event is scheduled for Sept 21st through the 24th. The show's website is HERE.  Watch the above video to get a taste of what to expect. The 2016 game show saw 614 exhibitors (269 domestic – 345 foreign) and over 270,000 visitors.
And while you are in Tokyo you might want to also consider these other delights.
Robot Show
Enjoy the full on sensory experience of the Robot Restaurant show … a favorite of foreign visitors. As Anthony Bourdain of CNN said, it is "the greatest show in the history of entertainment."
READ MORE: Tokyo's wild, weird, amazing Robot Restaurant show
Tokyo Anime Land
And if you happen to also be a fan of Anime, you will be in heaven. So much part of the culture that the new Tokyo governor wants to turn the city of Tokyo into an Anime Land … according to this Forbes article.
Akihabara Otaku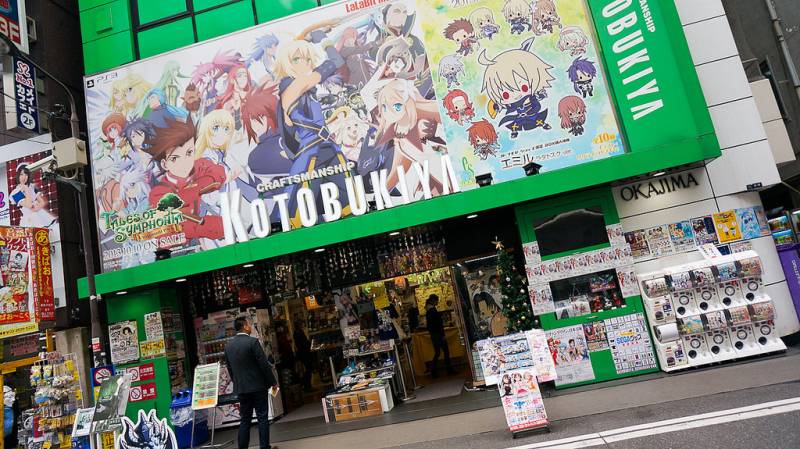 Image: Antonio Tajuelo CC BY 2.0
Amine, manga, maid cafe, cosplay … Akihabara. Before the Internet, Akihabara was the electronics mecca of Japan. Now it is equally as impressive, but for Otaku, those who are passionate about manga or anime. One of the things it is also known for are Maid Cafe's … kind of a cosplay hostess bar.  Definitely a unique experience.
READ MORE: Foreign woman's adventure – a day at an Akihabara maid cafe
Electronic Heaven

Image: Jocelyn Strob Simard
While in Akihabara you should definitely drop by Yodabashi's Akihabara store. Called Yodobashi Akiba, this is probably the largest electronics store in the world.  Dominating the electronic city of Akihabara, Yodobashi Akiba towers 9 floors over Akihabara Station and houses the most incredible collection of electronic gadgets imaginable.
Japanese Arcade
Japanese arcades are definitely worth a look. … with old and new game machines.  Since you are in Akihabara, why not stop by Club Sega ( 1-10-9 Soto-Kanda, Chiyoda-ku, Tokyo) to watch the hard core Japanese gamers in action and try out on your own some of the action.
Also, if you are looking for a Virtual Reality experience, Tokyo has some of the best. Check out these Tokyo VR Arcades.
Monster Cafe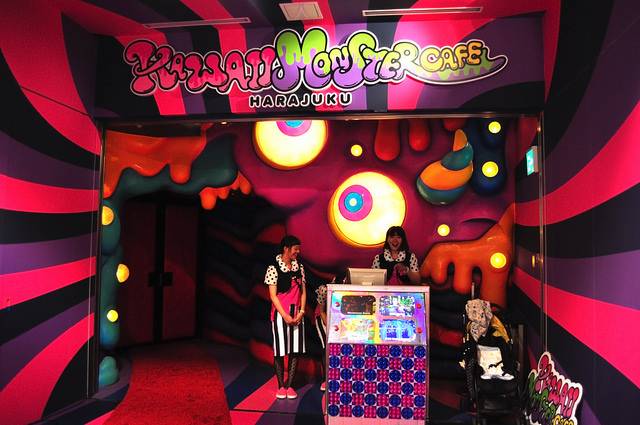 Image: Roxanne Ready   CC BY-SA 2.0
And if you happen to be looking for a wild and "cute" experience, you might want to stop by the Monster Cafe. Opened in August 2015, it is topping many Tokyo must-see lists.
Straight from their website, "Harajuku, a colorful and crazy town that has been creating it's own original culture by engulfing the world's most trendiest fashions and cultures.  It is like a monster that swallows everything in its path and keeps expanding.
Our restaurant is a reflection of this monster visualising TOKYO, HARAJUKU.
Upon entering, you will walk through the tongue of Mr. Ten thousand chopsticks(Choppy)
and then come across the cake shaped Merry-go-round  "SWEETS GO ROUND"  and also the 4 unique areas called "MUSHROOM DISCO","MILK STAND","Bar Experiment", and "Mel-Tea ROOM".
Wherever you are seated, you can enjoy the surrounding art created by Sebastian Masuda and colorful menus.
Also the iconic Harajuku girls called "MONSTER GIRLS" will welcome you at your table.
"MONSTER GIRLS"  will welcome you at your table.
READ MORE: Harajuku's Kawaii Monster Cafe
Japanese Food Delights
Hungry after a long day of gaming? Check out the assortment of food, including bento and sweets favorited by the bullet train travelers, on the food floor in the basement of the Daimaru department store next to Tokyo Station.
A wide assortment of Japanese food and sweet favorites are available at the many specialty stalls.
Or just walk around the basement of Tokyo station and you will see all assortments of food restaurants and shops … but be careful and don't get lost in the labyrinth that is the Tokyo Station underground.
Featured Image: t-mizo CC BY 2.0
Instructions on how to view 360° video on mobile devices.
1. Under "Video Options" (located at top of page) select the VR 360 video.
2. On the video tap the title which is located on top left of the video
3. You will be taken to the YouTube app (if installed on your phone) where the video will play.
4. To return to this page tap the "return" button on your phone.
Go back to top of this page