Harajuku cute to the max at the Kawaii Monster Cafe
Looking to experience "cute" that only Japan can deliver?  Then you need to adventure into the Harajuku area of Tokyo.  This is the "cute" capital of Japan.  Harajuku is known as a center of Japanese youth culture and fashion and is one of the most popular destinations in Tokyo for both domestic and international tourists.
If you want to really max out your cute meter, stop by the Kawaii Monster Cafe.  It is located east of Harajuku station.  See the map below.
Concept
The concept cafe includes a cake shaped merry-go-round called the Sweets Go Round, in addition to four unique areas, Mushroom Disco, Milk Stand, Bar Experiment, and Mel-Team Room.  All with a flavor of crazy cuteness !  And mixed with the cuteness is the kind of sexy cosplay cafe helpers called Monster Girls, with names like Baby, Dolly, Candy, Nasty, and Crazy.  This is Harajuku cuteness to the max !
Check out the cafe's website HERE.  Also, watch the above video of US. pop singer Ariana Grande loving her shoot for Vogue Japan at the cafe.
Oh yeah, and the Monster Girls have their own Twitter, Facebook, and Instagram feeds !
そして浴衣でKAWAIIMONSTERCAFEいてきた! 偶然見つけて入ったんだけどはまりそう…べいびーちゃんかわいいほんとに推し?✨ すっごく素敵な空間でみんなかわいくてすごいたのしかったー♡ #KAWAIIMONSTERCAFE pic.twitter.com/tQjwTfsrFQ

— るなてぃっくるなるな (@Ruuuuu0913) August 7, 2015
Check out the fun !!
About Harajuku
Harajuku is the common name given to a geographic area spreading from Harajuku Station to Omotesando, corresponding on official maps of Shibuya ward as Jingūmae 1 chōme to 4 chōme. In popular reference Harajuku also encompasses many smaller backstreets such as Takeshita Street and Cat Street spreading between Sendagaya in the north to Shibuya in the south.
Harajuku is known internationally as a center of Japanese youth culture and fashion. Shopping and dining options include many small, youth oriented, independent boutiques and cafés, but the neighborhood also attracts many larger international chain stores with high-end luxury merchandisers extensively represented along Omotesando.
Here is one of the entrances to Harajuku fashion and fun … Takeshita Street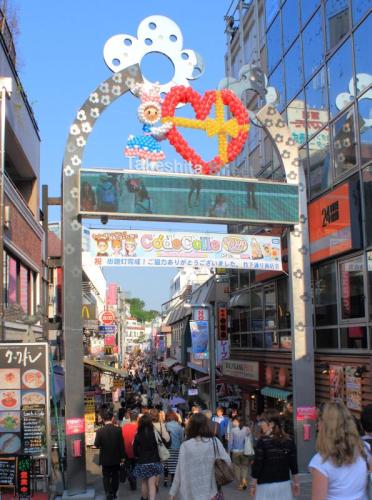 "Takeshita street 2012" by Kakidai – Own work. Licensed under CC BY-SA 3.0 via Commons.
Map location of the Kawaii Monster Cafe:

Instructions on how to view 360° video on mobile devices.
1. Under "Video Options" (located at top of page) select the VR 360 video.
2. On the video tap the title which is located on top left of the video
3. You will be taken to the YouTube app (if installed on your phone) where the video will play.
4. To return to this page tap the "return" button on your phone.
Go back to top of this page