Japan robots help tourists in enjoying their visit
Japan, a leader in robot technology, has implemented in various forms and capabilities robots to assist foreign and domestic tourists in making their visit even more enjoyable.  Japan plans to continue to increase numbers and evolve technology in preparation and as Tokyo moves closer to the Olympics in 2020.
Kinosaki Onsen Robot
The interactive humanoid robot "Pepper" was introduced at the Kinosaki Onsen hot spring resort in Toyooka, Hyogo Prefecture in Sept 2015. The robot is used to communicate with visitors and to provide them with tourist information. This project was devised by the Tajima Airport Promotion Association where they plan to introduce two additional robots in the city within this year.  At the spa resort area the state-of-the-art robot attends not only to Japanese but also foreign tourists.
Pepper becoming part of the family unit across Japan !  🙂 🙂
きょう11月28日(土)あさ10時より受付開始したPepper 11月一般販売分1,000台ですが、開始1分で申し込みが予定数に達し、受付を終了しました。次回12月分の販売は、2015年12月26日(土)あさ10時から行ないます。▼Pepper11月申込受付分1,000台の一般販売受付終了についてhttp://www.softbank.jp/robot/news/product/201501128a/

Posted by Pepper(ペッパー) on Friday, November 27, 2015
Junko Chihara Trilingual Robot
Toshiba unveiled its second communication android, Junko Chihira, who made her debut in October 2015 at the Aqua City Odaiba where she greeted visitors and introduced herself in her current language capability which is Japanese, English, and Chinese.  In December 2015 she will be located at a new tourist information center as part of the Tokyo Metropolitan Government's Tokyo Waterfront Omotenashi (Hospitality) Promotion project. Junko will be ready to provide tourist information on events at Aqua City and other areas in Odaiba.  The next step will be to by 2017 to give her speech recognition technology, allowing her to respond to questions from tourists in Japanese, English and Chinese.  The aim is to provide support to overseas tourists, as their numbers are expected to increase in the years leading up to the 2020 Tokyo Olympics.
See above video of Junko in action.
Aiko Chihira
Aiko is Toshiba's first communication android, Junko's predecessor.  She is a lifelike communication android that can move its arms and hands smoothly and use Japanese sign language.
See above video of Aiko doing her thing.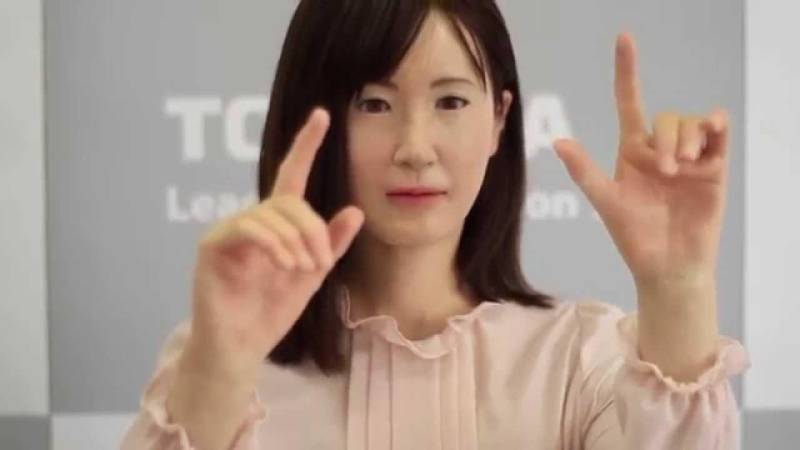 Robot Translators
According to TTGAsia, KINKI Nippon Tourist has teamed up with the technology firm FueTrek to develop voice recognition technology, designed to aid Japan's tourism industry.  The companies are planning to launch a new service in early 2016 that will provide small robots capable of acting as translators, as well as tablet computers and wearable devices that will be able to translate speech in a number of languages.  The aim is for these translators to be used at hotels, restaurants and attractions that are increasingly coming into contact with customers from around the world.
Hotel Staffed with Robots
Hen Na Hotel (also known as the robot hotel) in Sasebo, Nagasaki, Japan is a hotel is full of robot devices and smart and energy efficient technologies.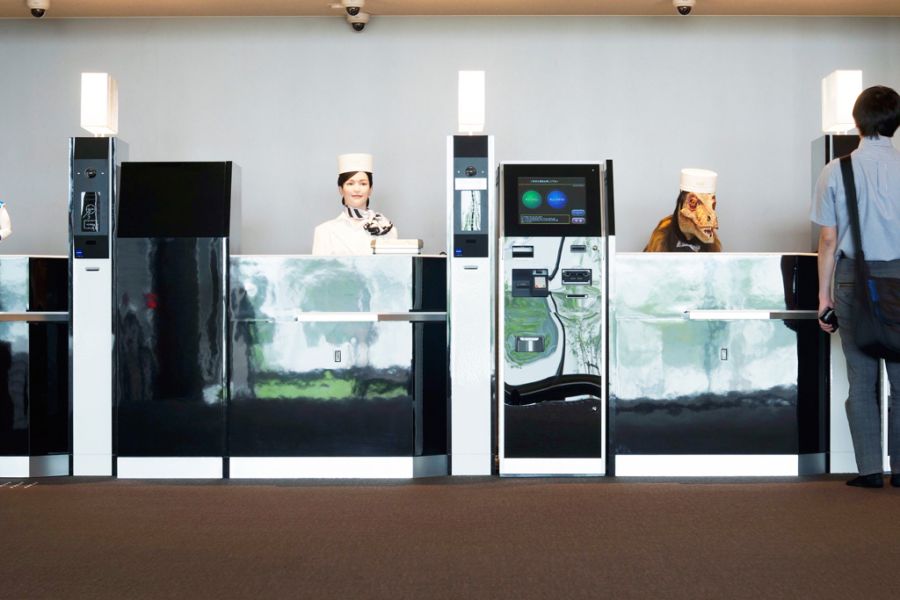 Image Credit: Henn na Hotel
Japan Tourism Seeing Strong Growth
According to data from the JAPAN NATIONAL TOURISM ORGANIZATION the preliminary figures for the Jan – Oct 2015 time frame show over 16.3 million foreign visitors arrived in Japan.  This is compared to 13.4 million visitors for the full Jan-Dec 2014 time frame.
SEE ALSO:
The super magnificent Tokyo Robot Restaurant show
Robot technology leadership will help Japan develop drone leadership in the future