Japan Street Food Adventure
Street food is a staple of Japanese life. Frequently sold from "yatai" which are small, mobile food stalls, yatai became popular and widespread in the Meiji period (1868-1912) and were two-wheeled pushcarts constructed of wood.  These mobile stalls offer yaki imo, ramen, oden, takoyaki, and other delights.  Office workers can be seen enjoying these street side food stops on their way home after a long day of work or night of entertainment.
In the above video, Uel and Shannelle who are from Sydney and travel the world, do a great job in giving a visual introduction to the foods found on the streets of Tokyo and Osaka, from the hot fried batter filled octopus balls called Takoyaki to the sweet treats of red bean filled fish pancakes, sweets filled crepes and mochi snacks.
Here are a few examples:
Yaki Imo
Especially popular during the autumn and winter when the weather is cold Yaki Imo are stone baked sweet potatoes cooked over a wood fire. Yaki imo trucks and carts (yatai) fitted with wood stoves can be found all over Japan.  Cool autumn and winters you hear throughout Japan the loudspeaker on the Yaki Imo trucks singing the Yaki Imo song … essentially repeating over and over again "Yaki Imo, Ishi Yaki Imo." satsuma imo … sweet potatoes
A Yaki Imo truck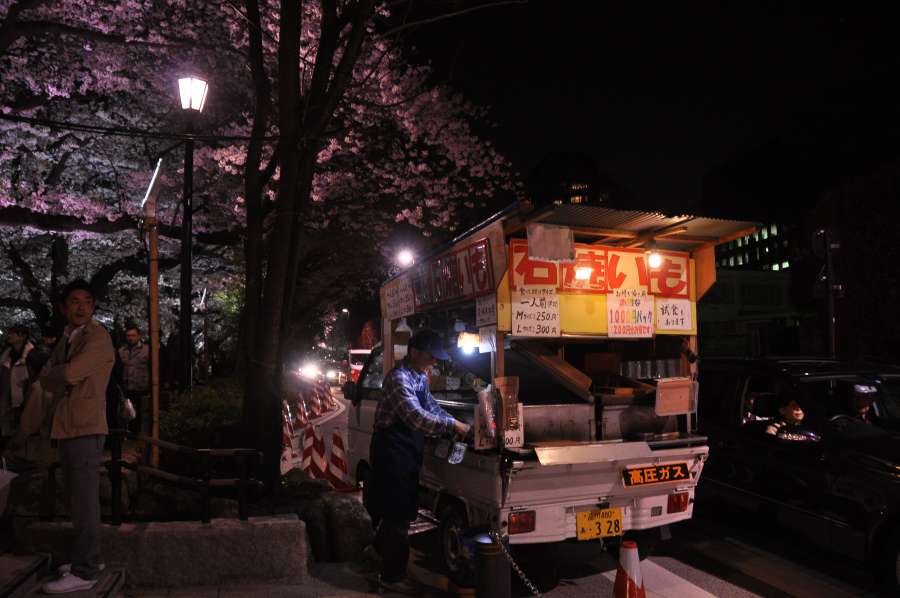 Image credit: Marufish   (CC BY-SA 2.0)
Nikuman
Street vendors selling Nikuman (steamed pork buns) and other treats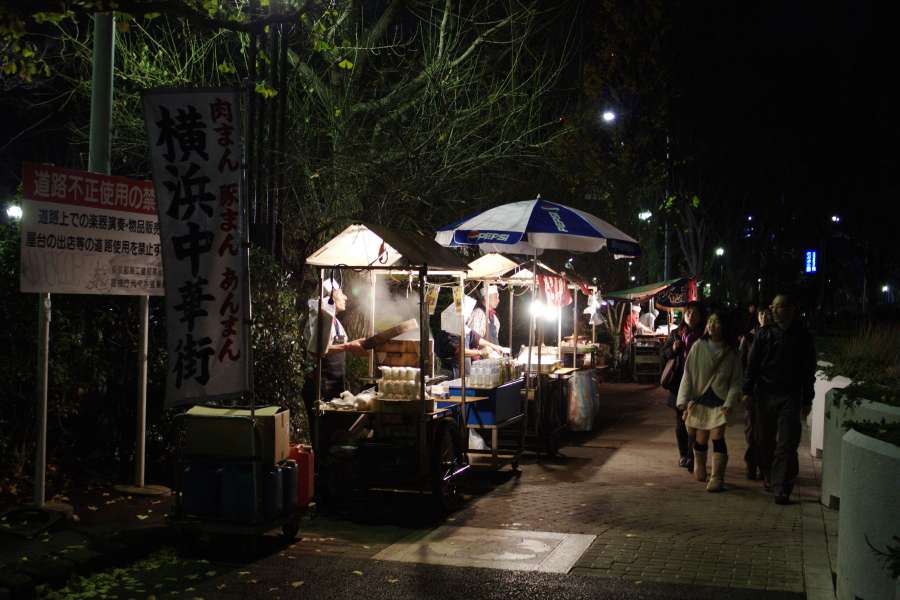 Image Credit: Marko Kudjerski   (CC BY-SA 2.0)
Ramen
Tonkotsu ramen at a Yatai stall in Tenjin, Fukuoka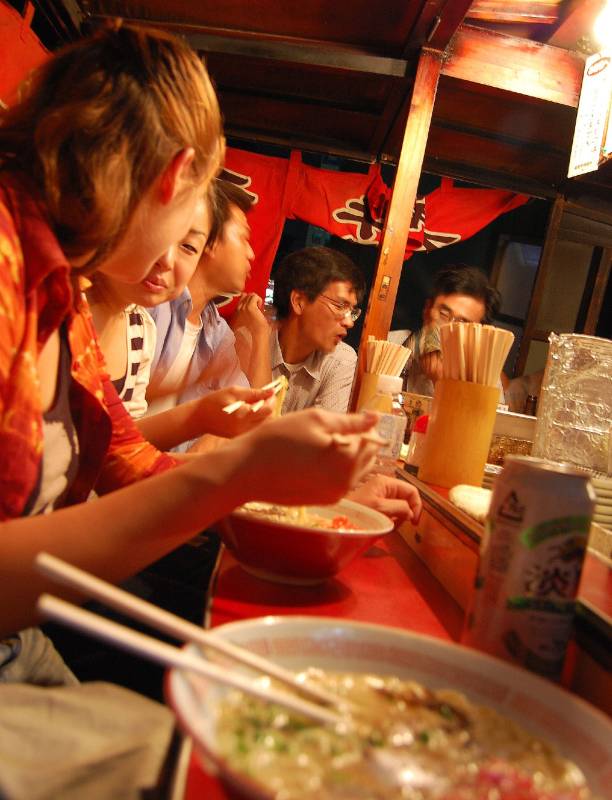 Image Credit: Richard West   (CC BY-SA 2.0)
Takoyaki
Ball shaped pancakes with octopus in the center, topped with mayonnaise, pickled ginger, fish flakes
Takoyaki street vendor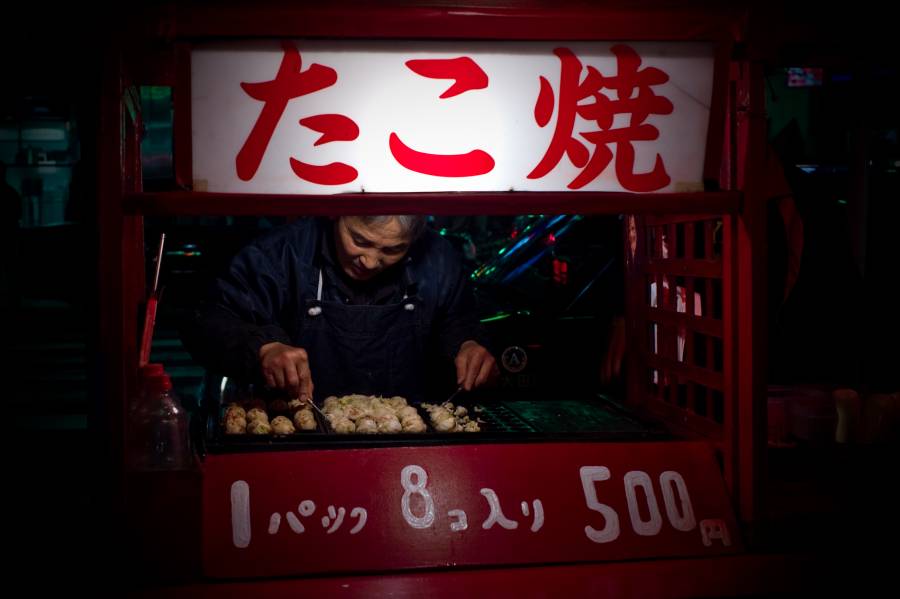 Image Credit: null0  (CC BY-SA 2.0)
Oden
Winter dish of meats, fish and vegetable items stewed in light broth.  Oden yatai.  Great for warming up on a cold night.
An Oden Yatai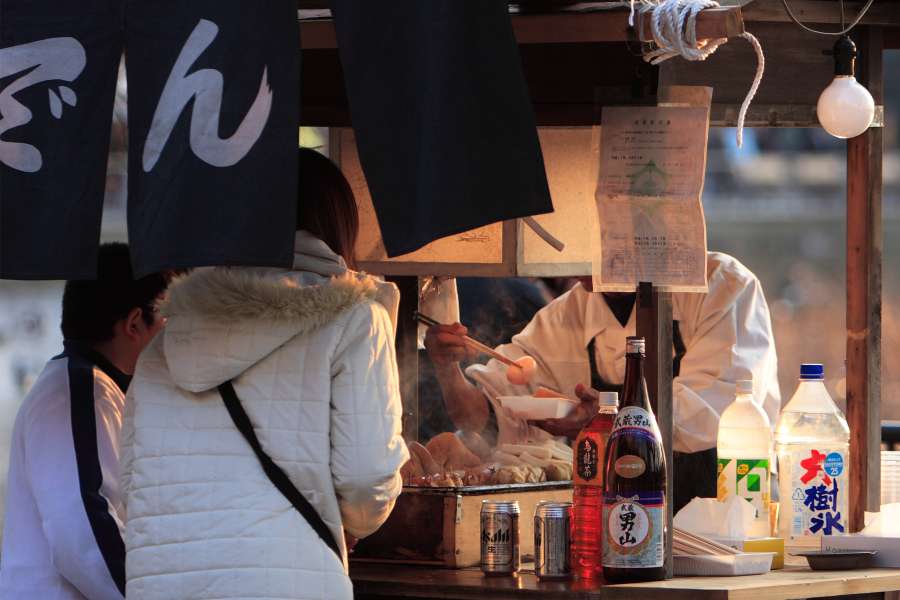 Image Credit: mrhayata  (CC BY-SA 2.0)
Do you have a favorite street food?