Street food guide to Dotonbori Osaka Japan
Osaka people are great food lovers and are said to spend more on food than anything else … probably why the term "kuidaore" ("eat until you drop") is sometimes used to describe the food culture here. And the best place to experience Osaka's food culture is one of the main tourist destinations in Osaka, the Dotonbori district near Namba Station.  A popular nightlife and entertainment area, it is packed with all types of eateries along its main thoroughfare and many side streets.
John Daub always does an excellent job with introducing elements of the Japan lifestyle in his Waoryu ONLYinJapan video series. In the above video John provides a video tour of the Dotonbori section of Osaka and its unique street food options.  Covering the streets of Dotonbori, he samples local favorites such as:
Takoyaki
Osaka flavor gyoza
Ramen
Crab
Kushikatsu
Also under "Video Options" take a 360 VR walk through Dotonbori and watch the popular YouTube channel "Strictly Dumpling" take a food tour of Dotonbori.
Dotonbori canal at night in the Namba district of Osaka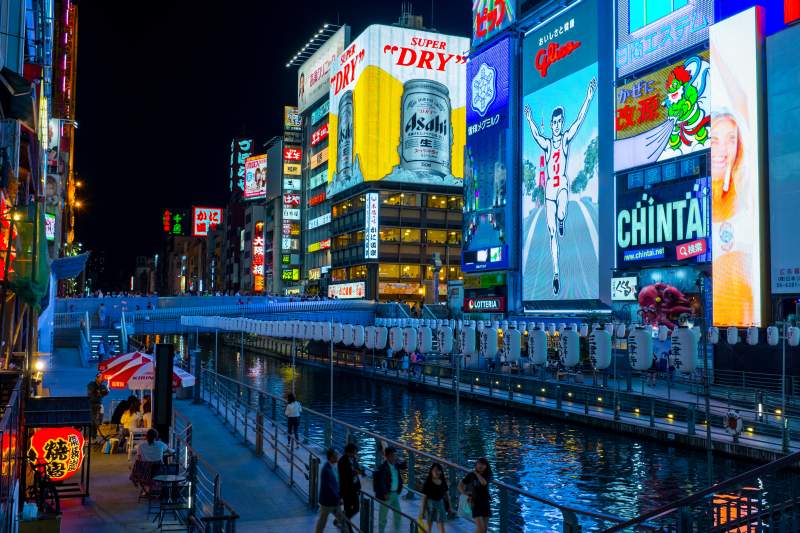 Image Credit: Kristoffer Trolle (CC BY 2.0)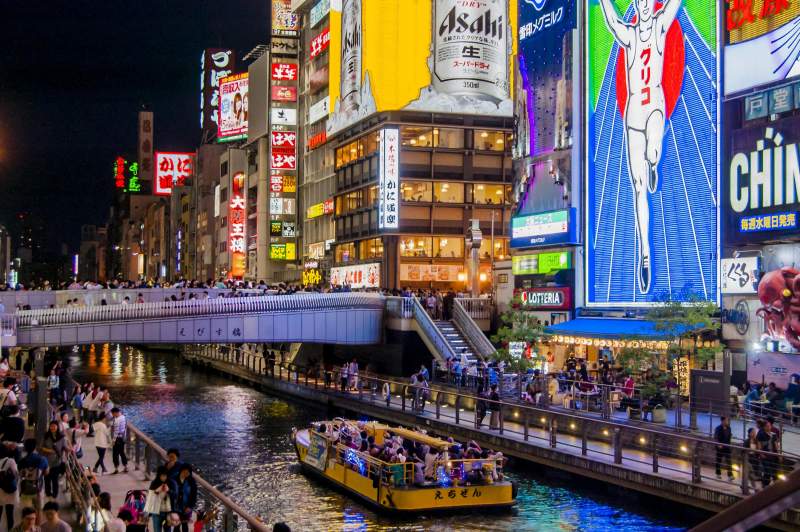 "Osaka Dotonbori Ebisu Bridge" under CC BY-SA 3.0 via Commons.
Crab
Who would have thought crab was big in Osaka, but one of the popular restaurants, Kani Doraku, serves them char-grilled right at the front of the street. They also have kani miso or "crab brains" served in a half shell.  You can't miss the restaurant … its the one with the big crab out front !
The giant crab … an Osaka landmark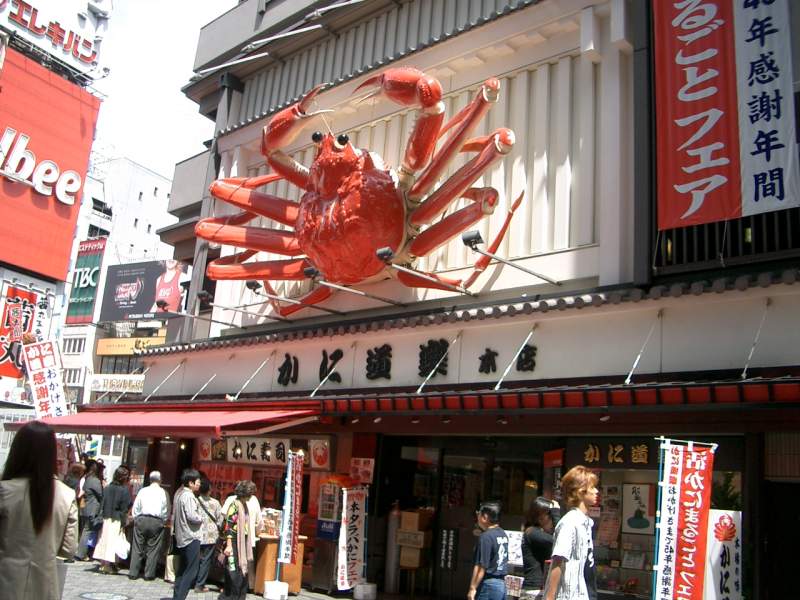 Image Credit: William He (CC BY-SA 2.0)
Takoyaki
Called "octopus balls" by many English speakers, takoyaki literally means "grilled octopus."  This popular street snack is made of flour and egg based batter that is cooked with a filling of octopus slices, pickled ginger and green onion, using a special takoyaki pan which molds the ingredients into small balls. They normally come topped with a tangy thick soy sauce, Japanese mayonnaise, and dried bonito fish and seaweed.
Osaka Takoyaki being prepared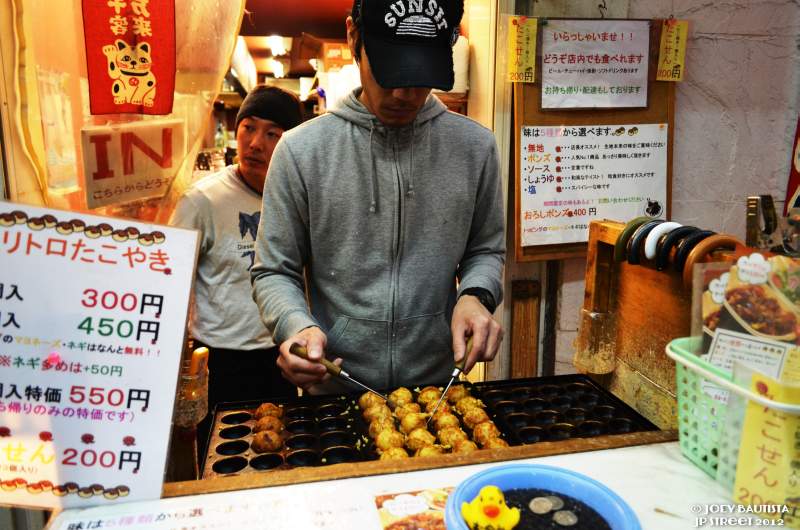 Image Credit: lagalag15  (CC BY 2.0) (modified for feature image)
Kushikatsu
Another Osaka specialty is kushikatsu. It is skewered meats (chicken, pork, and/or seafood) and vegetables dipped in egg, flour, panko batter and then deep fried to a golden brown in vegetable oil. You take each skewer and then dip it in tonkatsu or other sauce.
Kushikatsu … Japanese style deep fried kebab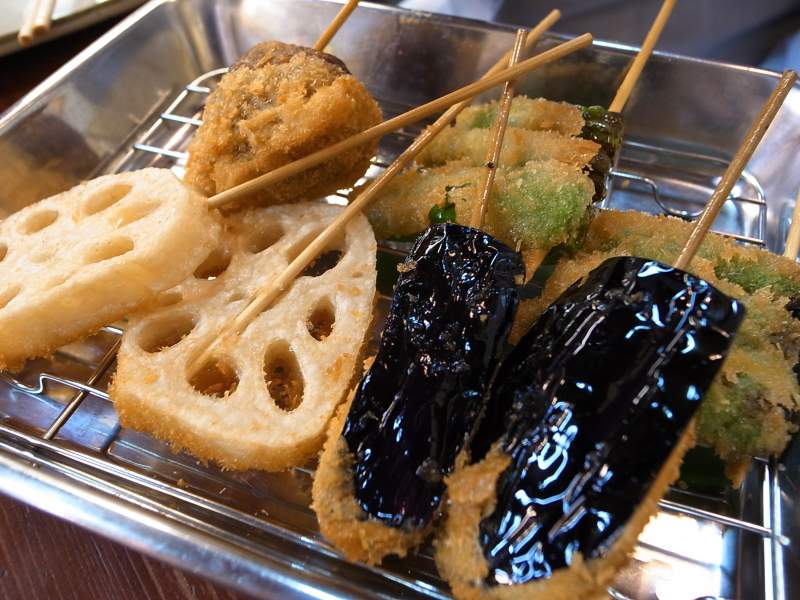 Image Credit: Lisa Pinehill  (CC BY-SA 2.0)
Map guide to Dotonbori in Namba district

Instructions on how to view 360° video on mobile devices.
1. Under "Video Options" (located at top of page) select the VR 360 video.
2. On the video tap the title which is located on top left of the video
3. You will be taken to the YouTube app (if installed on your phone) where the video will play.
4. To return to this page tap the "return" button on your phone.
Go back to top of this page