Catch your meal at Japan's Zauo fishing restaurant
Japan restaurant chain Zauo takes fresh seafood to the next level where you can have the unique experience of catching your own meal.  At the Shinjuku Tokyo branch, you are greeted by a giant, boat-shaped seating area which is surrounded by a moat that is stocked with all kinds of fish. Once seated, you'll be given a fishing rod and some bait for you to try your luck with fishing for your dinner.  What you catch you then eat … after prepared of course to your liking … how about sashimi, grilled, deep-fried, or sushi.
Steps from Zauo to enjoy your unique fishing and eating adventure.
1st – Purchase some bait! You can buy bait to fish from the staff. Fishing rods can be rented for free.
2nd – Start fishing!  Let the staff know what fish you would like to catch. Target the prey and begin!! If you are having a difficult time catching a fish, you can ask the staff and they will give you some advice.
3rd – Catch your fish !
4th – Hand the fish to the staff and they will begin preparing it to your liking.
5th – Eat and enjoy !
To make reservations for your Japan fishing / eating experience and to find locations around Japan go to the Zauo restaurant web site.
Some great images from inside the Zaou Shinjuku restaurant

The challenge of catching the seafood you want to eat at Zaou restaurant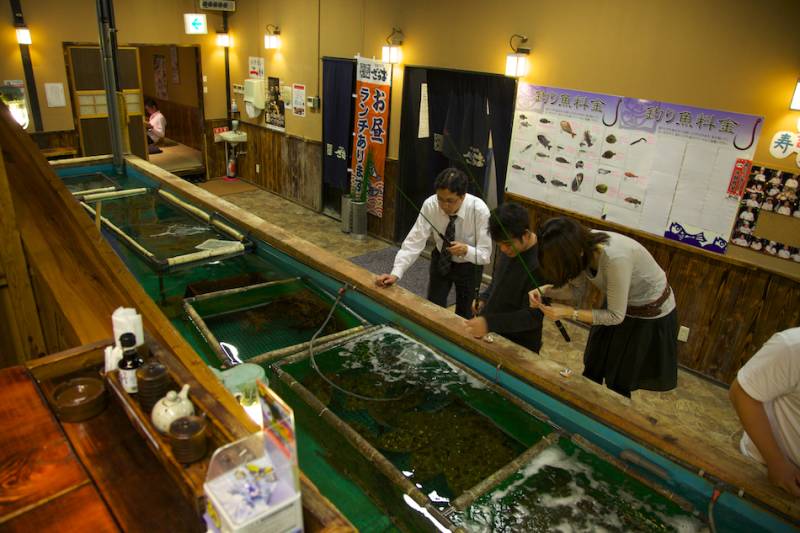 Image Credit: Thierry Draus (CC BY 2.0)
Catch, cook, and enjoying eating your seafood catch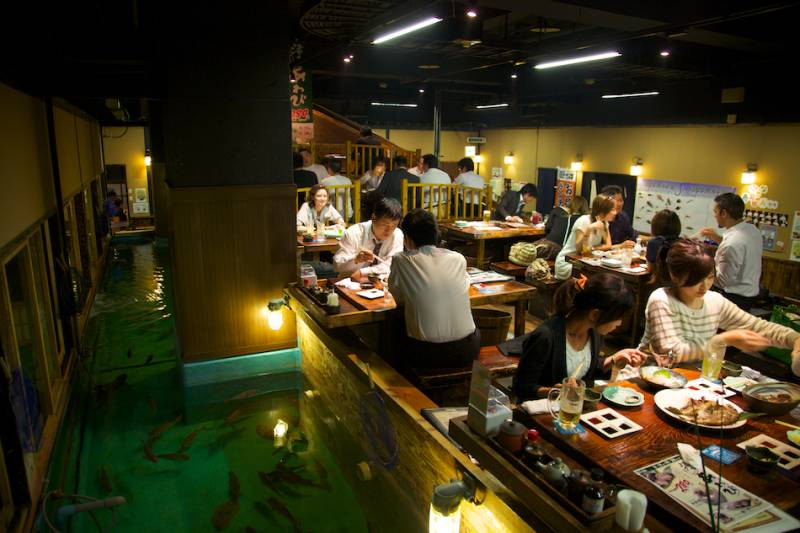 Image Credit: Thierry Draus (CC BY 2.0)
Here is the map location for the Zaou Shinjuku branch restaurant in Tokyo