Sapporo Snow Festival is a winter wonderland
Enjoy the Snow Festival held every February in Sapporo Hokkaido.  Magnificent snow and ice sculptures, winter events, great food, and Japanese hospitality !  
Great videos above of this year's (2018) festival that include awesome video of projection mapping on the ice sculptures.
The Sapporo Snow Festival is one of Japan's largest winter events and attracts an every growing number of visitors from Japan and abroad every year.  During the festival in February around two million people come to Sapporo to see the city turned into a winter dreamland with a large number (around 250) of magnificent snow and ice sculptures lining Odori Park, the grounds at Community Dome Tsudome, and along the main street in Susukino.
Night view of the main plaza area of Sapporo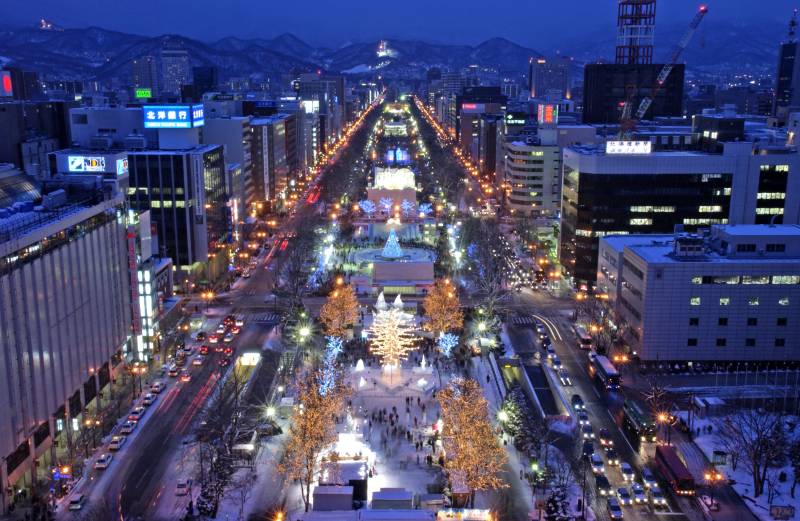 Odori Site
Odori Park which stretches 1.5km from east to west through the heart of downtown Sapporo is transformed into a fantasy of snow and ice.  All the works of art and sculpted with pure white snow and sparkling clear ice. These splendid snow and ice sculptures are the biggest attraction of the Snow Festival.
One of the many magnificent snow sculptures created during the festival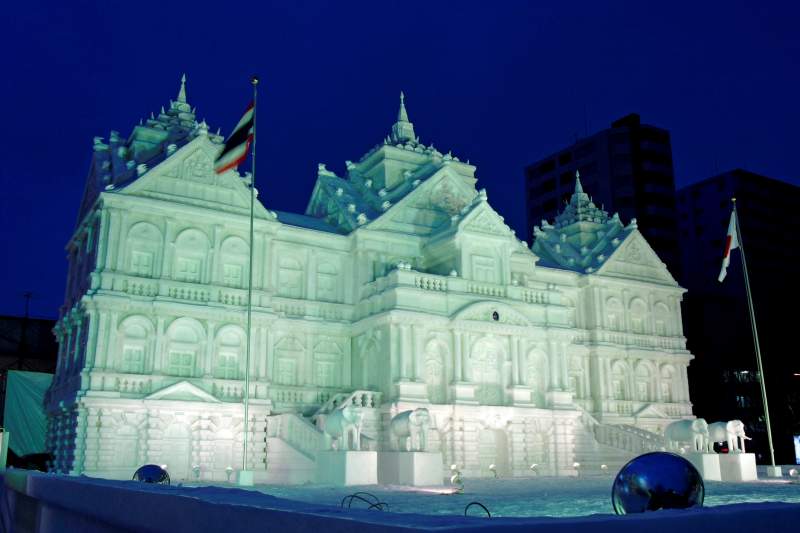 One of the most beautiful parts of the festival is the projection of video on the snow sculptures.   Watch this fantastic example.
Tsudome Site
The community dome, Tsudome is the second largest site of the festival. Here you will see very large snow slides and a snow rafting area outside the dome. Inside the dome, there are plenty of attractions to enjoy and have a refreshment break in the spacious rest area. It's a place where you can really enjoy the wonders of Hokkaido in winter.
Don't forget to sample all of the great Japanese food available !

Susukino Site (SUSUKINO ICE WORLD)
With the theme of 'Enjoy the Ice', this location offers a fantastic ice sculpture show and the Ice sculpture contest. You can also visit the plaza, 'Fureai Hiroba' to touch or ride on the ice sculptures, take photos in the Illumination Street, or have hot drinks at the Ice Bar.
Take a tour of the festival with one of Japan's best vloggers, John Daub.
The 2018 Sapporo Snow Festival takes place from Feb 5 – 12.
Find out more from the Sapporo Snow Festival website
Location of Snow Festival

Images: Welcome to Sapporo