Kagoshima travel: last samurai, hot springs, islands, volcano
Kagoshima Prefecture, located on the southern tip of Kyushu, is blessed with the diverse scenery of ocean, mountains, and rivers, as well as home to many hot springs and historical sites.  It has an active volcano (Sakurajima), an island registered as a UNESCO World Heritage Site (Yakushima), is a popular hot springs destination (Kirishima Onsen), holds a yearly festival famous throughout Japan (Ohara Matsuri), and known for Japan's "last true samurai."   The above video will give you a taste for what Kagoshima has to offer the Japan traveler.
Last Samurai
Saigō Takamori (January 23, 1828 – September 24, 1877) was one of the most influential samurai in Japanese history, living during the late Edo Period and early Meiji Era. He has been dubbed the last true samurai.  Saigō's last stand against the Meiji government in the Battle of Shiroyama was the historical basis for the 2003 film The Last Samurai. Katsumoto, played by Ken Watanabe in the movie, is based on Saigō.
Monument at Shiroyama, Kagoshima marking place of death of Saigo Takamori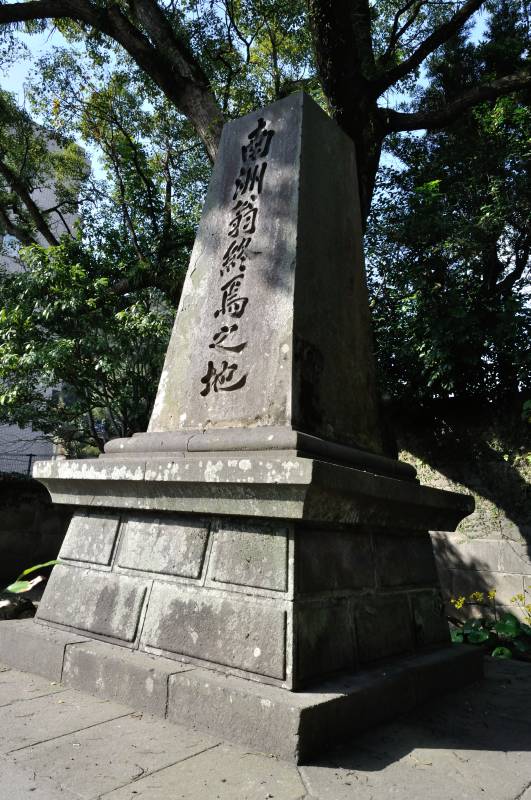 "Deathplace of SAIGO Takamori" by Doricono – Own work. Licensed under CC BY-SA 3.0 via Commons.
Saigō Takamori (upper right) directing his troops at the Battle of Shiroyama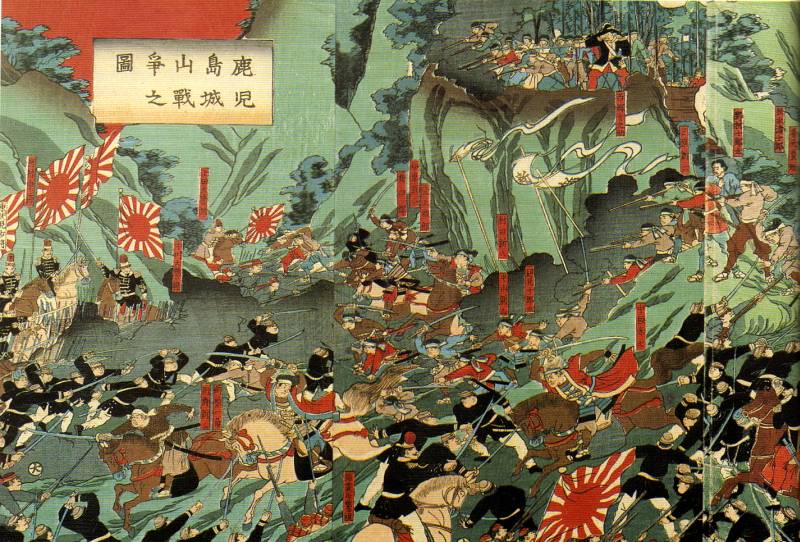 "ShiroyamaBattle". Licensed under Public Domain via Commons.
Hot Springs
Kirishima Onsen, one of Japan's most popular hot spring resort areas, is located in Kirishima mountain area and has distant views of Kagoshima Bay and volcano Sakurajima.
See the above video, Kirishima Hot Springs, to get a flavor for what to expect from the famous outdoor springs.
Private onsen in the room in the ryokan, Kirishima, Kagoshima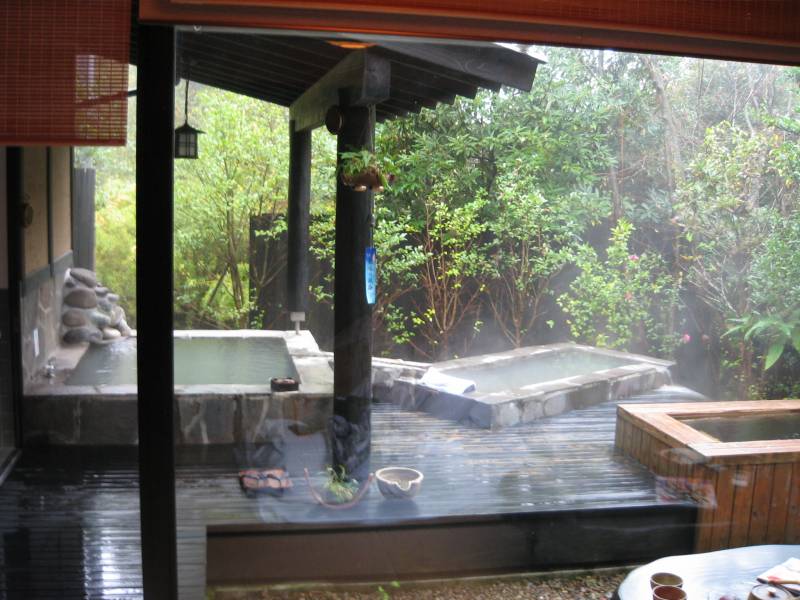 Image Credit: vera46 (CC BY-SA 2.0)
Festival
Watch the above video of the Ohara Festival (Ohara Matsuri), a representative festival of southern Kyushu, which is held in November. During the festival, close to 22,000 people, both Japanese and foreigners, gather to dance along Tenmonkan, the busiest shopping and entertainment district of southern Kyushu.
Kagoshima Ōhara Dancing Festival in November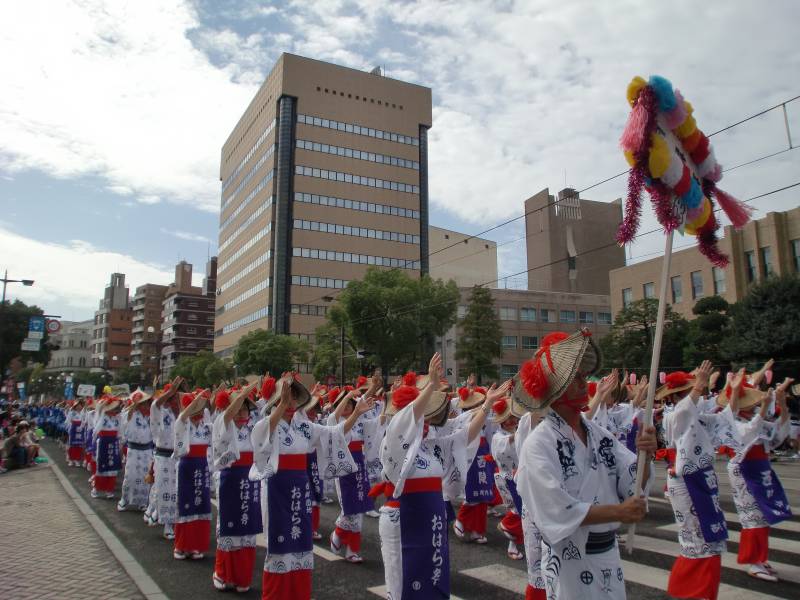 Image Credit:"Ohara Festival 2011" by Sakoppi – Own work. Licensed under CC BY 3.0 via Commons.
Subtropical Islands
Kagoshima's beautiful southern islands number about 30, with the most famous being Yakushima Island, Yoron Island, and Amami Island. Yakushima Island, a UNESCO World Heritage site, is a half-day ferry ride from the mainland.  There you can see giant cedar trees, dive and snorkel with tropical fish, hike Kyushu's highest mountain, Minanouradake, and see unique species such as Yaku monkeys and Yaku deer.  The forests of Yakushima inspired the forest setting in the film Princess Mononoke.
Along the Kusugawa trail on Yakushima Island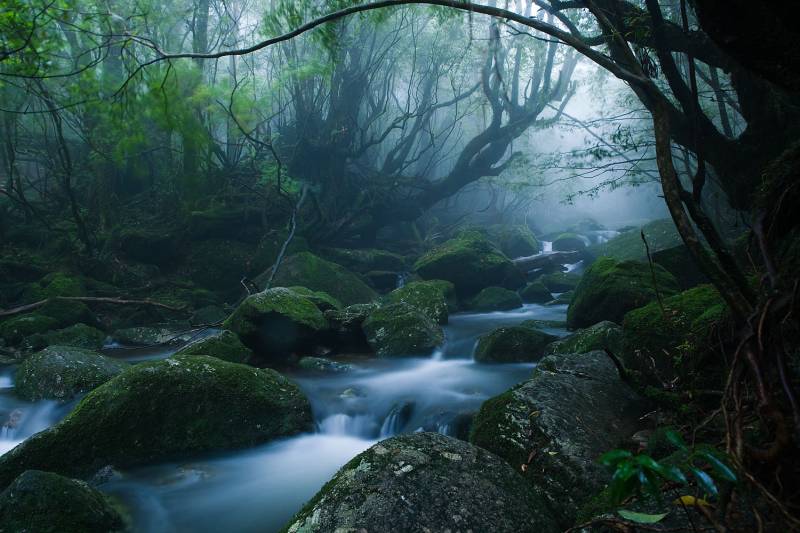 Image Credit: Casey Yee (CC BY-SA 2.0)
Watch a beautiful video captured by a drone camera as it flies above these magnificent islands.
Volcano
Sakurajima is an active volcano and can be seen from Kagoshima city across the Kagoshima Bay.
Sakurajima at sunset in 2009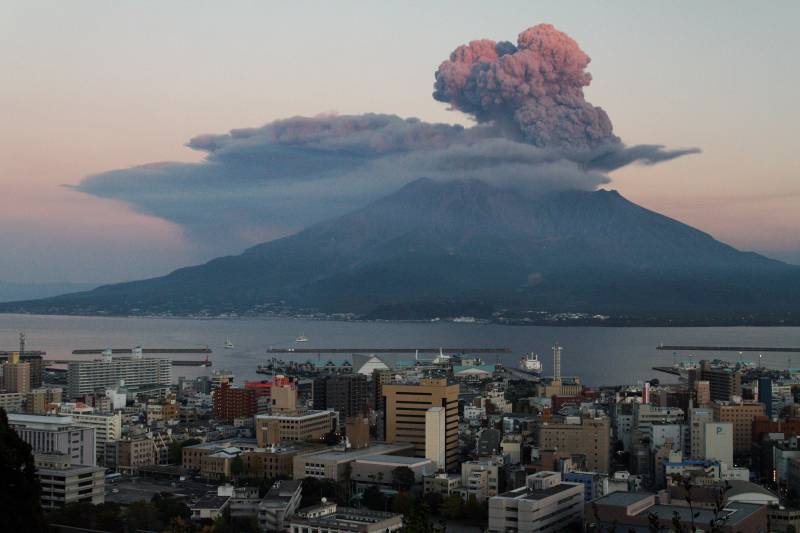 Image Credit: Kimon Berlin (CC BY-SA 2.0)
Map location: Kagoshima Prefecture