Hiking in beautiful Kamikochi mountain valley in Japan alps
Looking to travel and hike in the Japan alps.  How about Kamikochi? Located in a highland valley within the Hida Mountains range, in western Nagano Prefecture, Kamikochi is one of the most beautiful highland areas in Japan and is a part of Japan Alps National Park … a great place to plan your next hiking adventure.
Accommodations
While you are there, if you are looking for a place to stay, check out the available hotel and spa accommodations in the area from Kamikochi's official website:
http://www.kamikochi.or.jp/english/institution/
Nothing feels better after a day of hiking and sightseeing than relaxing in Japan hot springs.
Or, about 1.5 hour by car or bus from Kamikochi is the J-Hoppers Hida Takayama Hostel.  The Hostel HidaTakayama Japan claims to be a guesthouse in HidaTakayama for backpackers and people seeking budget hostel accommodations.
About Kamikochi
From Wikipedia: Kamikochi has been designated as one of Japan's National Cultural Assets as one of the Special Natural Monuments and Special Places of Scenic Beauty.  Although smaller in scale then its counterpart, it is referred to at times as the "Japanese Yosemite Valley."
Geographically, Kamikōchi is a high mountain valley that is approx. 18 kilometers (approx 11 miles) in length with an average elevation at the valley floor that ranges between about 1,400 meters (approx 4,600 feet) above sea level at the south end and around 1,600 meters (5,200 feet) at the northern edge.   Kamikōchi is located in the Hida Mountains, the "Northern Alps" of the Japanese Alps. The surrounding mountains reach 3,190 meters (10,470 feet).   Bordering Kamikochi on its northern end is Mount Hotaka and on the southern end by Mount Yake, an active volcano.  The Azusa River flows the length of the valley, filling Lake Taishō at the base of Mt. Yake.
With its relatively flat topography, in the Kamikochi Valley marshes and ponds are common.  They have cold waters, even in the summer, sourced mainly from melted snow runoff or underground aquifers. A beautiful hiking location.
More about Kamikochi area can be found on the Japan Alps Kamikochi Official Website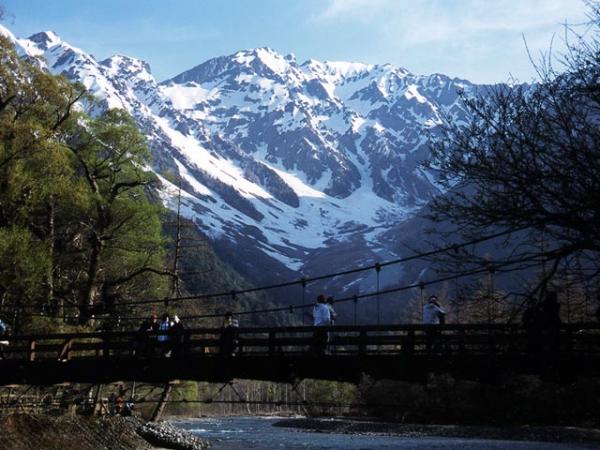 "Kamikouchi"  Inti-sol~commonswiki assumed. Licensed under CC BY-SA 3.0 via Commons.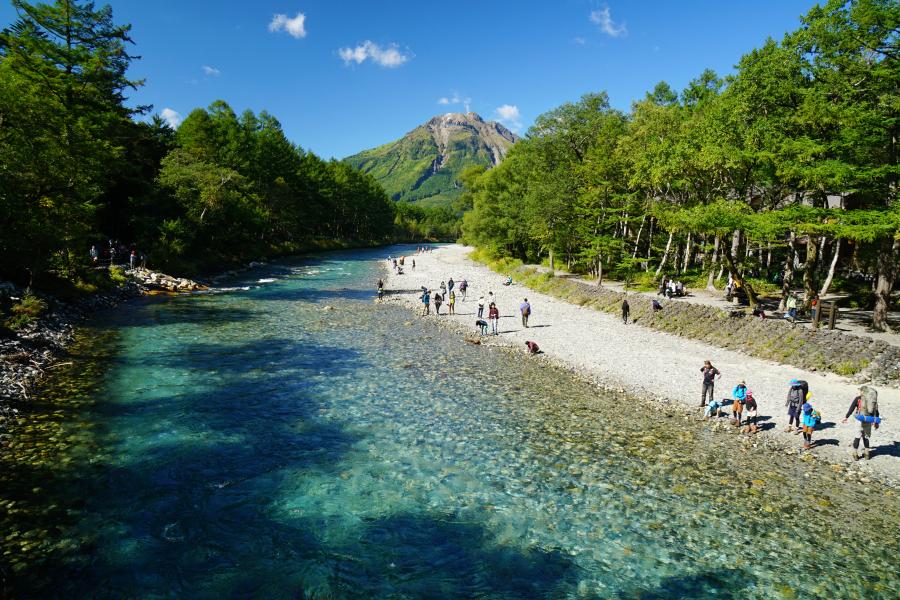 "150920 Mt Yake-dake Kamikochi Japan01n" by 663highland. Licensed under CC BY 2.5 via Commons.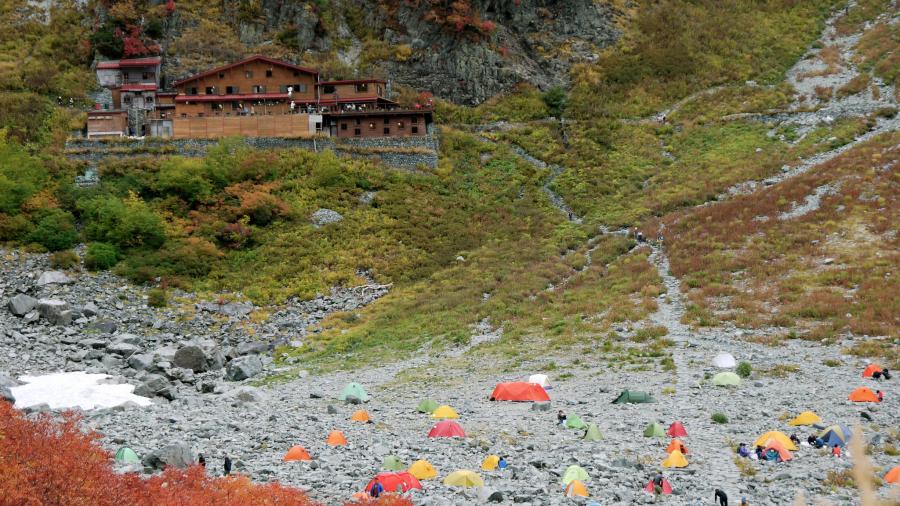 Image Credit:  Jason Downey  CC BY-SA 2.0
Map location of Kamikochi area: