Tokushima Awa Dance Festival – Japan's largest dance festival
Looking for some summer fun and dance?  … Then travel to Tokushima City in Tokushima Prefecture on the island of Shikoku during the August Obon season where it seems like the entire city is full of festival music and dance.
Watch the above video to see some of the celebration from 2016's event … and check out the Video Options above to see this year's festival and get a 360° VR view of the fun!
The Tokushima Awa Odori (Dance), held from August 12 through 15, is the largest dance festival in Japan, attracting over 1.3 million tourists every year.
The Awa Odori festival grew out of the tradition of the Bon odori which is danced as part of the Obon "Festival of the Dead", a Japanese Buddhist celebration where the spirits of deceased ancestors are said to visit their living relatives for a few days of the year.  The dance dates back to 1587 when feudal lord Hachisuka Lemasa to celebrate the newly-built Tokushima Castle, offered sake to the people of the castle town.  The citizens became so drunk they started to dance in an unsteady gait … and thus the current Awa-Odori (Awa is the former name of Tokushima and Odori means "dance") is characterized by irregular steps and happy, energetic rhythm.
The dancers parade through the city while dancing to music played on drums, bells, shamisen lute, and flutes.
Dancers and musicians will frequently break out into a chant as they parade through the streets:
The dancers are fools, the watchers are fools, both are fools alike so why not dance ?
A happy dancer in the streets of Tokushima city.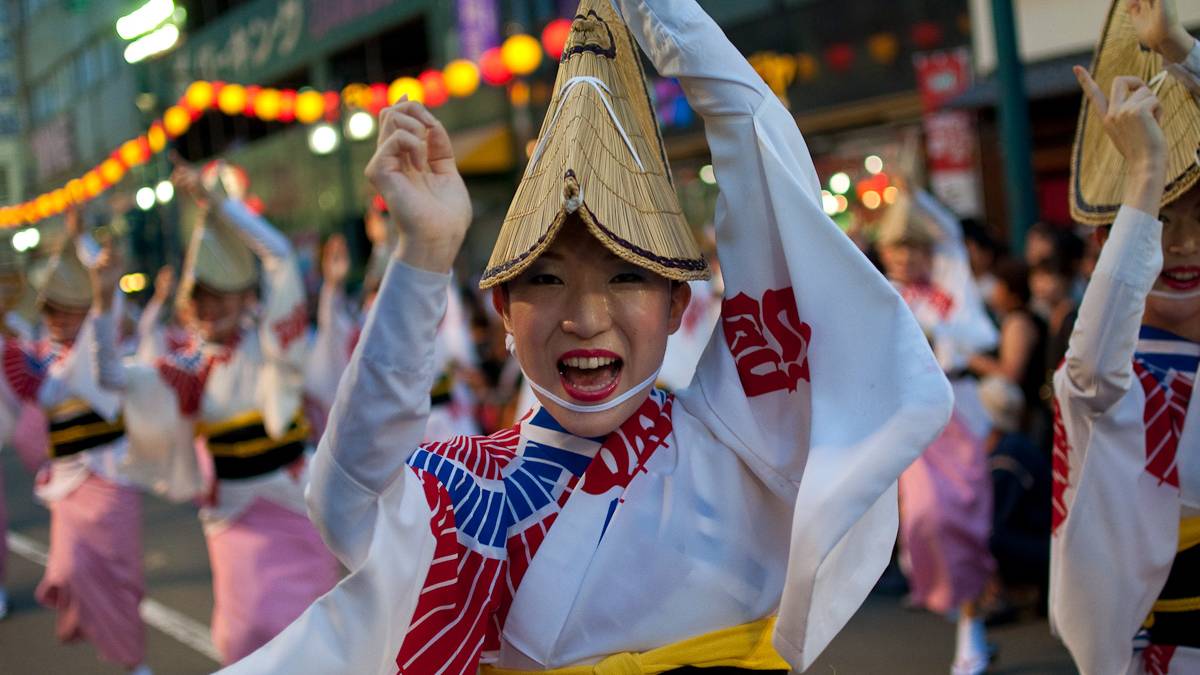 Image: Stemu2000 CC BY 3.0
A group of women performing the traditional Awa Odori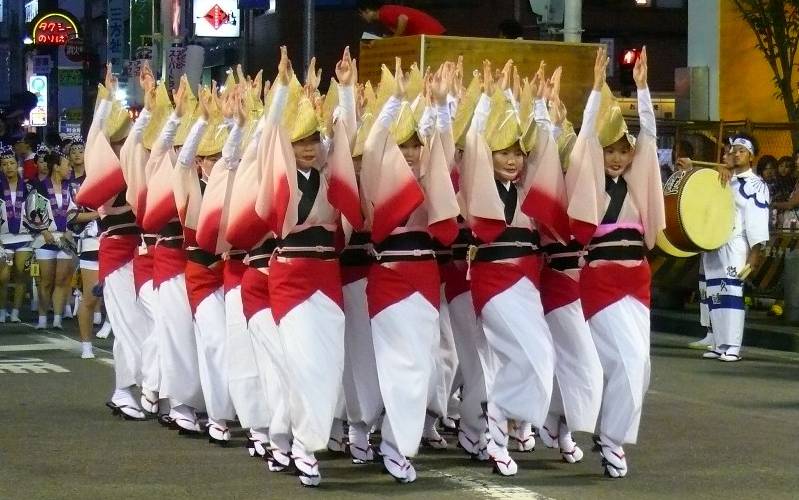 Image: Paulman – CC BY-SA 3.0
Location of Tokushima City

Traveling from Tokyo via train?

Source: Wikipedia – Awa Odori ; JNTO
Feature Image: Papieravion –  CC BY-SA 3.0,
Instructions on how to view 360° video on mobile devices.
1. Under "Video Options" (located at top of page) select the VR 360 video.
2. On the video tap the title which is located on top left of the video
3. You will be taken to the YouTube app (if installed on your phone) where the video will play.
4. To return to this page tap the "return" button on your phone.
Go back to top of this page