Tokyo Top 5 Best Winter Illumination Locations 2016/2017
The holiday season brings more excitement and more lights to the already high energy city of Tokyo.
If you are looking to see the best holiday season light shows in Tokyo during your visit to the city here is a great list (as of Dec 2016).  But first check out the above video from December 2015 which offers some great visuals of illuminations around Tokyo and which includes all of the locations listed below.
Now here they are … the best five … in no particular order.
1. Omotesando
Always a popular place for a weekend stroll and people watching, the Omotesando area comes even more alive during the holiday season with the addition of the winter illumination and makes it one of the best places each winter to enjoy holiday lights.  Just walk up and down the street and take in the holiday atmosphere.  You might want to also step in to the Omotesando Hills shopping plaza to view the fabulous Christmas tree.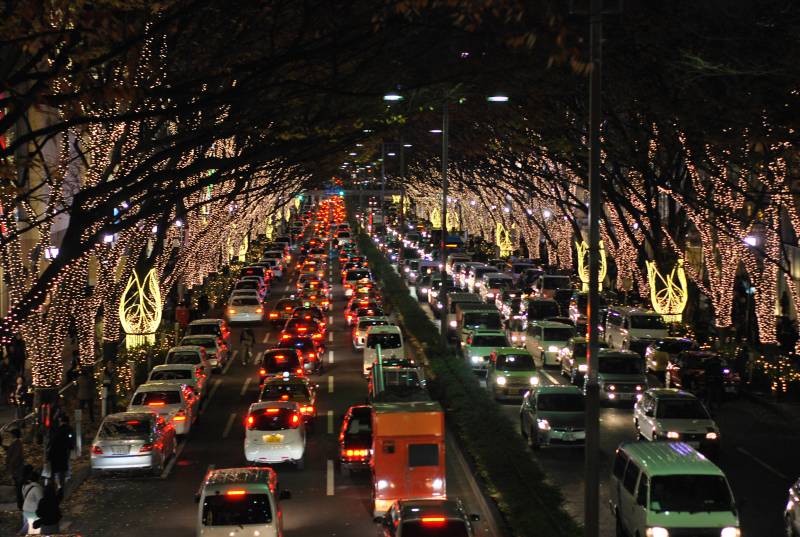 Image: Ari Helminen under CreativeCommons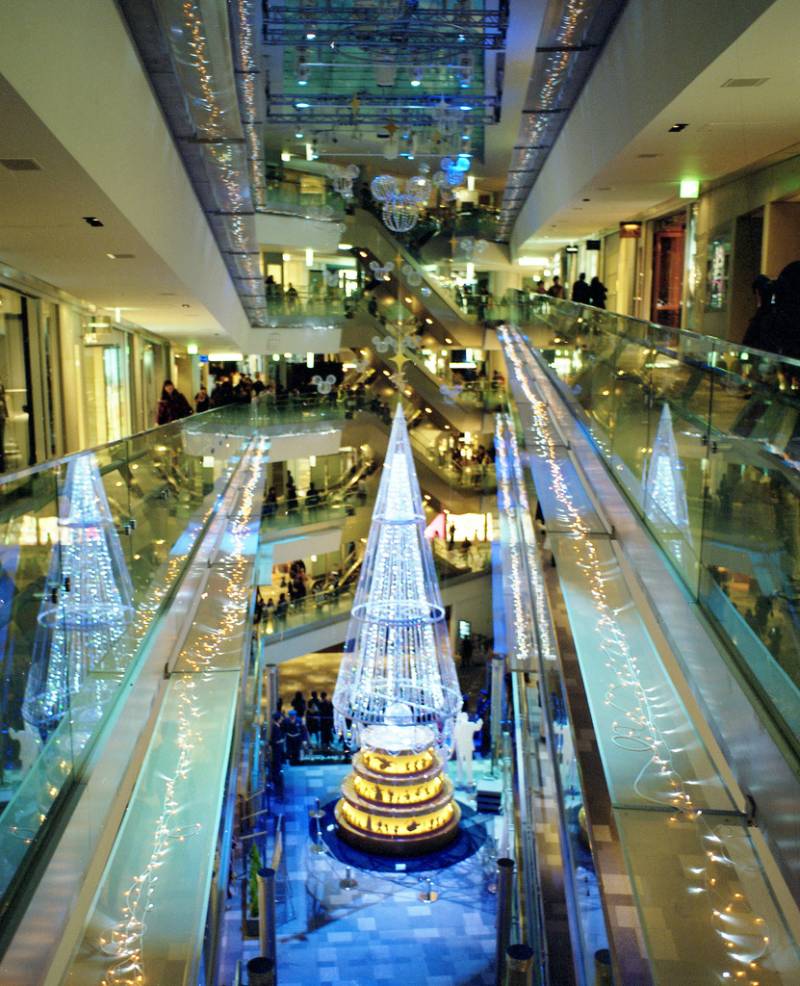 Image: mrhayata under CreativeCommons
2. Roppongi
Roppongi, known for its nightlife and packed with clubs popular with both local and foreigners, adds an additional element of energy during the holiday season.   The Roppongi Hills and Tokyo Midtown are two popular spots to enjoy winter illumination.
a. Roppongi Hills
The Roppongi Hills area has its big light display along Keyakizaka, the street which runs down a gentle slope on the Azabu side of Roppongi Hills. There are two illuminations, a "snow and blue" colored and a "candle and red" colored LED light display which combines for a magical visual transformation of 1.2 million lights.
Event period: Early November to Christmas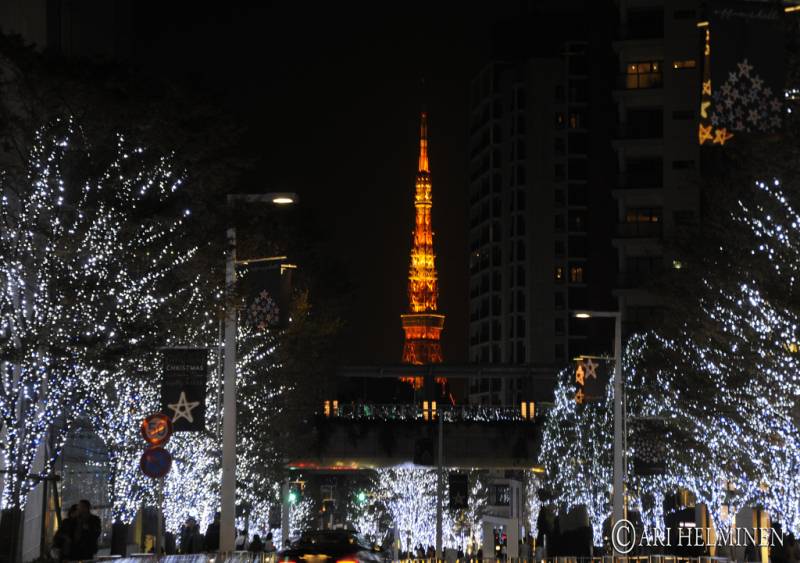 Image: Ari Helminen under CreativeCommons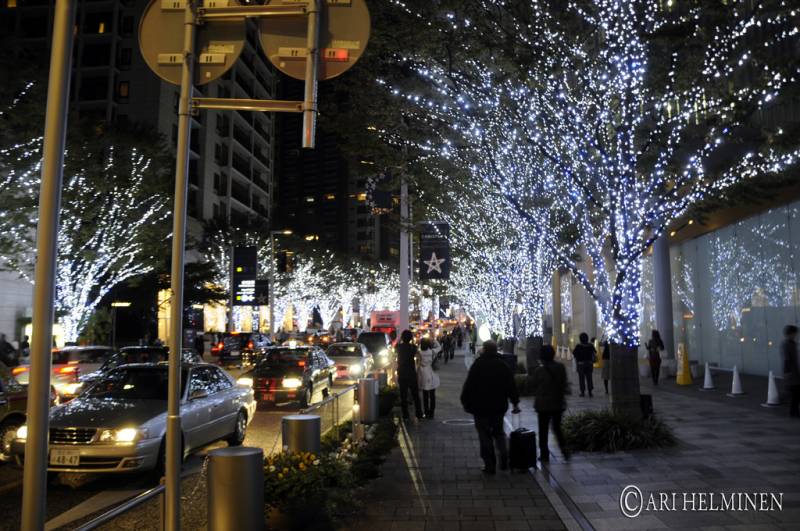 Image: Ari Helminen under CreativeCommons
b. Tokyo Midtown
This is one of the most popular light displays in Tokyo.  The "Starlight Garden" forms the centerpiece of the illumination and is located on the Grass Square which is a large 2,000㎡ open area surrounded by Tokyo's urban sprawl.  Consisting of more than 180,000 mainly blue lights it is meant to depict an illusory trip into space. In 2016 it also includes four new seachlights that project into the sky and represent the Big Bang.
Event period: Mid November to Christmas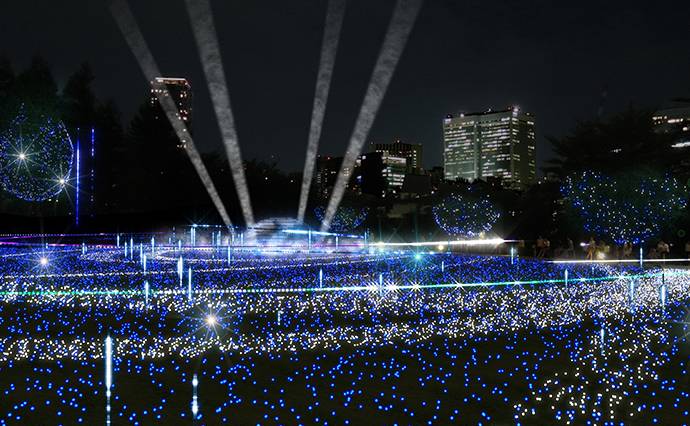 Image: Midtown Christmas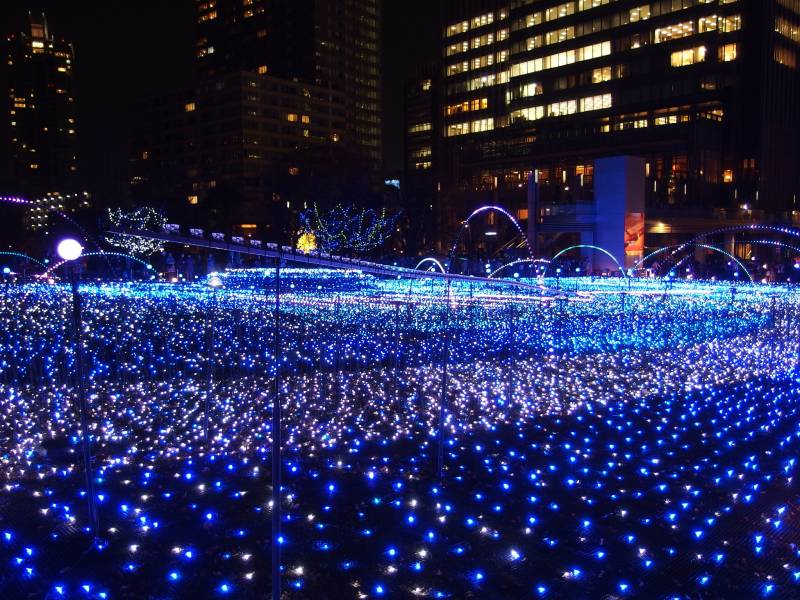 Image: Guilhem Vellut under CreativeCommons
3. Tokyo Station Marunouchi Area
The business area around Tokyo station of Marunouchi provides a classy offering to winter illumination.  Talk a night stroll down the street and enjoy.  From the event homepage Marunouchi Illumination 2016,  "For the 15th year running, the area will be illuminated as we light up about 250 trees along the 1.2 km connecting Yurakucho and Otemachi with 1 million LED lights in the Marunouchi original champagne gold color.  It will be held mainly along Marunouchi Naka-dori, the main street of the Marunouchi area replete with company offices and shops where locals and out-of-towners routinely cross paths."
Event period: mid November to mid February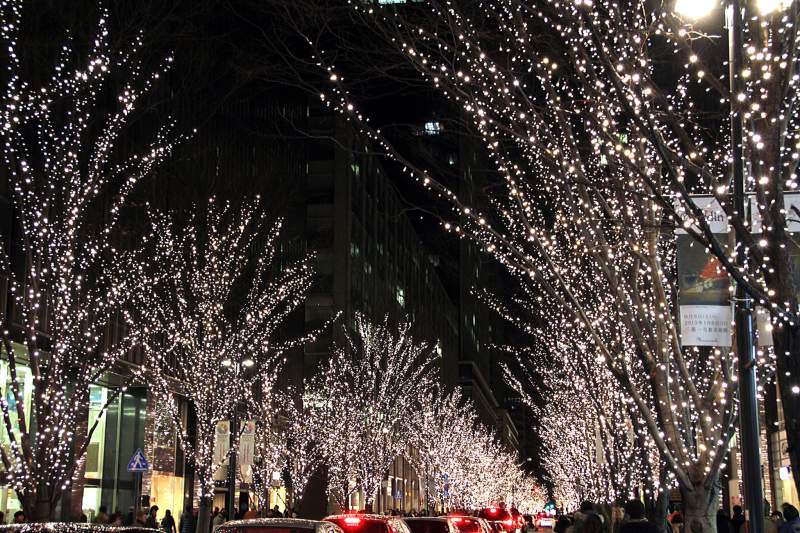 Image: OiMax under CreativeCommons
4. Yebisu Garden Place
Yebisu Garden Place, located next to Ebisu Station and just south of Shibuya Station, is a location that is tremendous popularity with the younger crowd.  Its Christmas illumination, entitled the Baccarat ETERNAL LIGHTS – Yorokobi no Katachi (The Shape of Happiness), is a magnificent presence with its Baccarat chandelier, one of the world's largest chandeliers, which is 8.4m (27.6ft) high, 4.6m (15.1ft) wide, and includes 26,471 pieces of crystal and 410 lights. Along with the Christmas tree at the Clock Plaza and the other light displays, the night visit during the holiday season should be on your to-do list.
Event period: Early November – Mid January
Yebisu Garden Place website and Winter Illumination 2016 website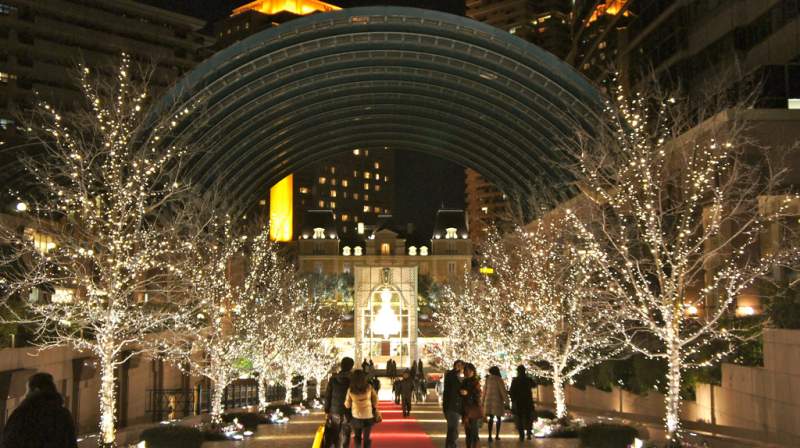 Image: 淳平 筈井 under CreativeCommons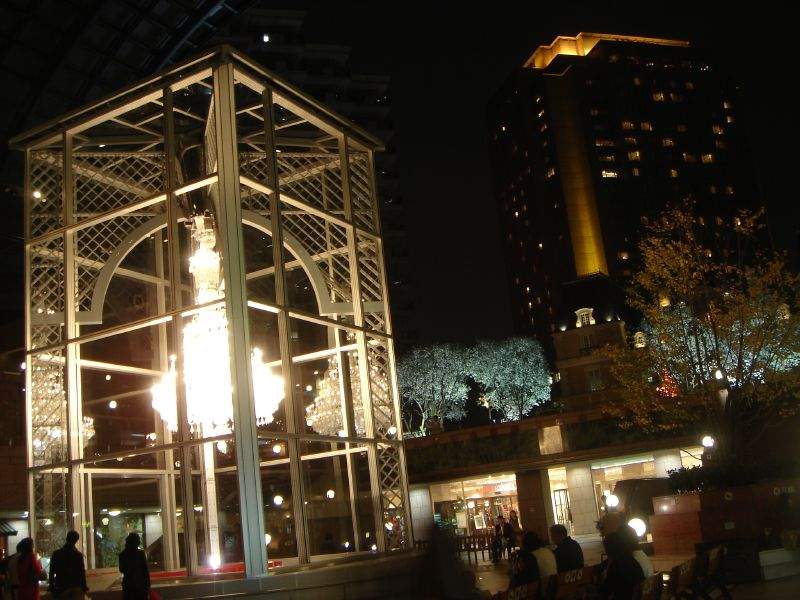 Image: kobakou under CreativeCommons
5. Caretta Shiodome
Caretta Shiodome Illumination continues every year to amaze people with a world of magnificent blue created by 270,000 LED lights and 3D projection of beautiful images on the buildings coordinated to the sound of music. Caretta Shiodome is a commercial complex close to JR Shinbashi station that includes restaurants, shops, and theaters.  As well as restaurants on the 46th to the 47th floors that offer delicious meals and fantastic views of Tokyo Tower, Tokyo Skytree, the Rainbow Bridge and Ginza, you can enjoy a panoramic view of Tokyo Bay from about 200m above ground from Sky View on the 46th floor.  Come to see the winter illumination and stay a little longer and enjoy the view of Tokyo from above.
The show takes place every 20 minutes beginning at 17:00 and going until 23:00. There may be extra late shows closer to Christmas.
Event period: Mid November  – Mid February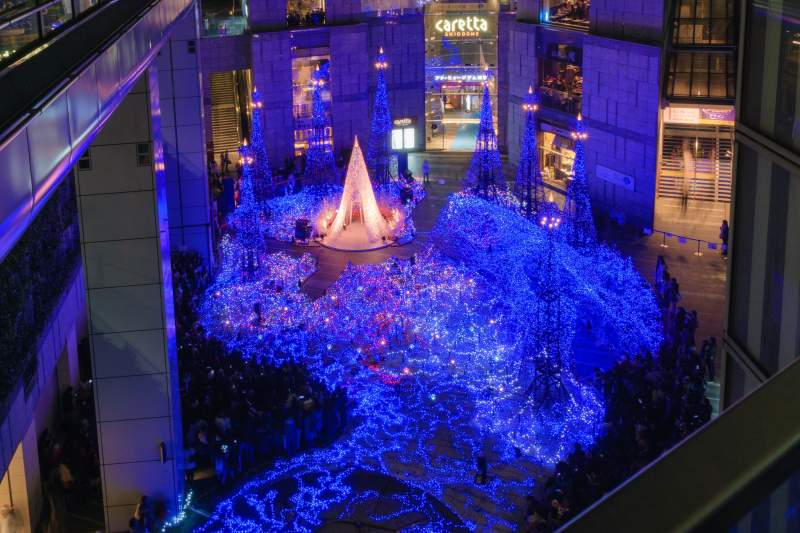 Image: Wei-Te Wong under CreativeCommons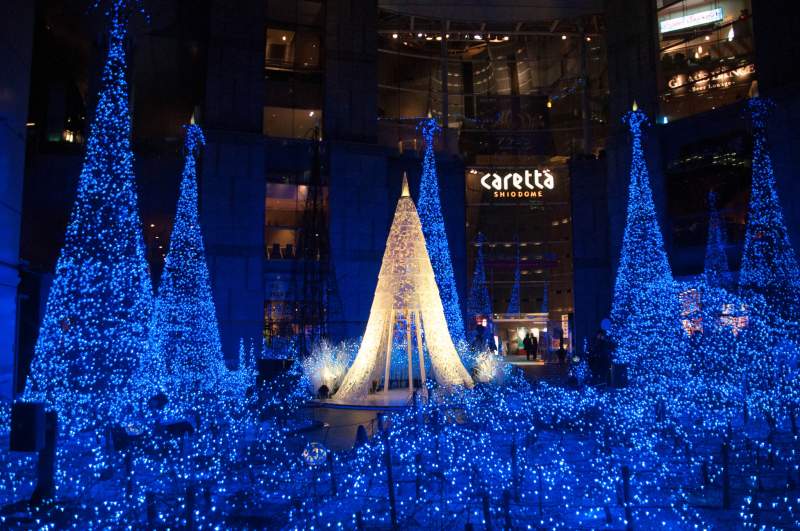 Image: Andy Yeo under CreativeCommons
Above list as of December 2016.  Check back for yearly updates.
Featured Image: Manish Prabhune under CreativeCommons
Modified:Text added
Post Your Comments